Menu de Noël

-Christmas Dinner 2017-
Celebrating the 20th anniversary of The Busena Terrace we prepared a Christmas specialty. To delight our guests, this year's Christmas dinner features truffle, fois gras, homard lobster and beef tenderloin using traditional Christmas colors. Enjoy a dinner based on luxury foods, ideal for the main event of this season.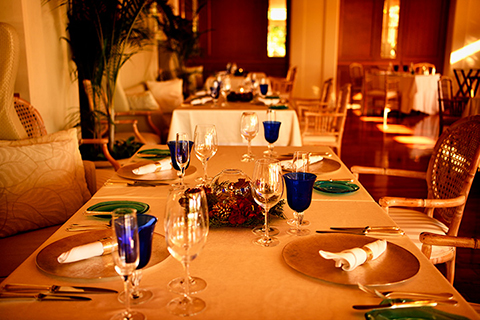 Available
December 1-25, 2017
Hours
17:30-22:00 (L/O 21:30)

Location
Main Dining "Fanuan"
Price
17,600 JPY per person
(All prices include a 10% service charge and are subject to consumption tax.)
Menu de Noël
Abalone, Red King Crab and Olive Flounder Carpaccio with Brightly Colored Vegetables Arranged to Form an Elegant Wreath.
Foie Gras Terrine with Smoked Root Vegetables and Matignon Beets Served with French Consommé Soup.
Canadian Homard Lobster Wrapped in Truffle with "Jus de Homard" Sauce.
Roasted Japanese Black Wagyu Beef Tenderloin and Calf Sweetbread Served with an Aromatic Madeira Wine Sauce.
Avant Dessert
Christmas Dessert
Coffee or Tea
Christmas Special Concert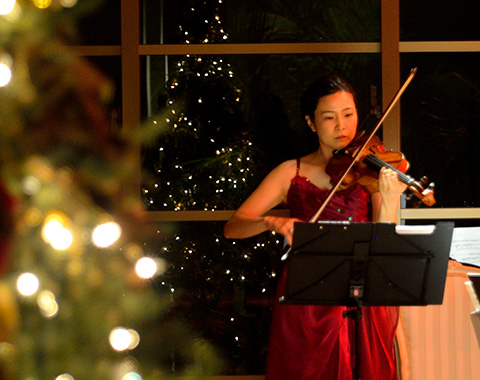 Live music (violin & guitar) will be played from December 23rd to December 25th to create the perfect setting for a romantic Christmas holiday.
Date
December 23-25, 2017
Time
18:15 - 18:45
19:15 - 19:45
20:15 - 20:45
21:15 - 21:45
◆Contact for Reservations & Inquiries
The Busena Terrace Restaurant Reservations
0980-51-1333