Make the most of your stay.
We invite you to take full advantage of our facilities and services during your stay.
In addition to Thalasso pool and outdoor pool that connects you to the limitless sea,
we offer dry sauna and training gym to refresh your mind and body;
and our fleet of deluxe chauffered cars await to take you to the many nearby sites of interest.
Facilities
Thalasso Pool
Local seawater from Cape Busena is heated to a comfortable range at or just below body temperature in this multi-feature pool. Massaging jets, aeration, and gentle currents create a number of zones for both aquarobics exercise and relaxation.
Location
Wellness Thalasso area 1F
Hours
March - November
9:30 a.m. - 10 p.m.
registration until 9 p.m.
December - February
9:30 a.m. - 8 p.m.
registration until 7 p.m.

Outdoor Pool
Furnished with deckchairs and parasols, our freshwater outdoor pool area is a comfortable place to catch a nap or unwind with a book.
Location
Ocean Tower 1F
Hours
June - August
9 a.m. - 7 p.m.
April - May, September - October
9 a.m. - 6 p.m.

Training Gym
Our gym is equipped to enable an all-over, low-impact workout. Regularly scheduled exercise classes are offered as well.
| | |
| --- | --- |
| Location | Wellness Thalasso area 1F |
| Hours | 9:30 a.m. - 10 p.m. |
※Please kindly inform the Thalasso reception to use this facility.
Dry Sauna
To ease muscle tension and relieve stress, frame your program with a visit to the dry sauna.
| | |
| --- | --- |
| Location | Wellness Thalasso area 1F |
| Hours | 9:30 a.m. - 10 p.m. |
※Please kindly inform the Thalasso reception to use this facility.
Thalasso Cafe
Between workouts, enjoy light spa cuisine and healthy herbal teas at this counter-style cafe.
Location
Wellness Thalasso area 1F
Hours
9:30 a.m. - 10 p.m.
Food are taken at 12 p.m. - 3 p.m.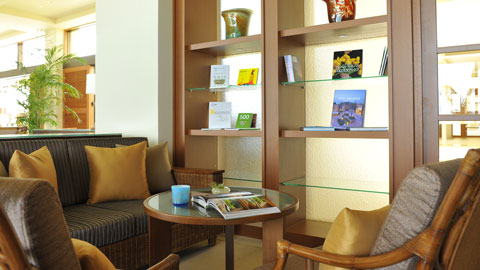 Library
Still more books, magazines, and daily papers are provided for your reading pleasure in our Library.
| | |
| --- | --- |
| Location | Ocean Tower 1F |
| Hours | 7 a.m. - 12 a.m. |
※Please note that minors under the age of 20 may not use this facility after 9 p.m.
Transportation Services
A complimentary shuttle bus links points within the resort while our shuttle service may be used by registered guests to visit other Terrace hotels. For day trips or other outings, our fleet of deluxe cars is available for hire.
Our chauffeured fleet of deluxe cars may be hired for transport between the airport and hotel, or for touring and shopping during your stay with us.
The Terrace Hotels Shuttle Service (complimentary)
For registered guests, a complimentary shuttle service links all of the Terrace hotels. Reservations are recommended and must be placed by 22:00 (10 p.m.) of the previous day.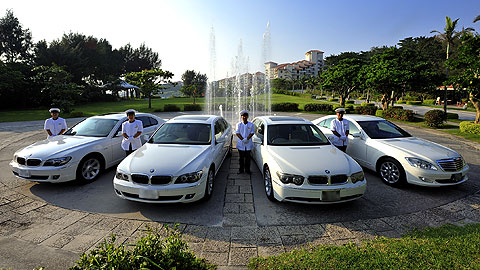 Hired Cars (charges apply)
We are pleased to offer a fleet of deluxe chauffeured cars to accommodate the sightseeing, shopping, and business needs of our registered guests. Advance reservations are recommended.
Important Note
*Only registered guests of the hotel may use our facilities. (Some facilities are available to staying guests of Terrace group hotel)
*Children under the age of 13 are not eligible to stay.
*All premises of the hotel, including guestrooms and the outdoor grounds, are strictly non-smoking.
Please Conceal Your Tattoos
At all Terrace Hotel properties, tattoos of any kind may not be shown when on hotel premises. Within the lobby, restaurants, and other public spaces, please wear attire that fully conceals them. Likewise, rash guards or other appropriate swimwear are required at our pools and on the beach.