News
January 16, 2018
Ayurveda
Stay
Package
Enjoy our newest stay plan featuring exercise, meals and treatments based on the ancient science of Ayurveda. Learn relaxing techniques and benefit by continuously using them in your every day life.
Ayurveda Stay Package
Available
January 4 - March 31, 2018


*14 days advance reservation required.

Price

2 Nights and 3 Days Package
65,500 JPY per Person
Inclusive of Lunch & Dinner
(All prices include a 10% service charge and are subject to consumption tax.)
*Room charges are not included.
Price Includes The Following:
1 x Lunch
2 x Dinner
2 x Counselling
1 x Ayurveda Treatment 1 - 60 Minutes
(Body Scrub or Head Care + Herbal Bath)
1 x Ayurveda Treatment 2 - 150 Minutes
(Taila Vimardana + Pinda Sveda + Shirodhara + Shower)
1 x Morning Exercise - 60 Minutes
1 x Crafting Original Herbal Bag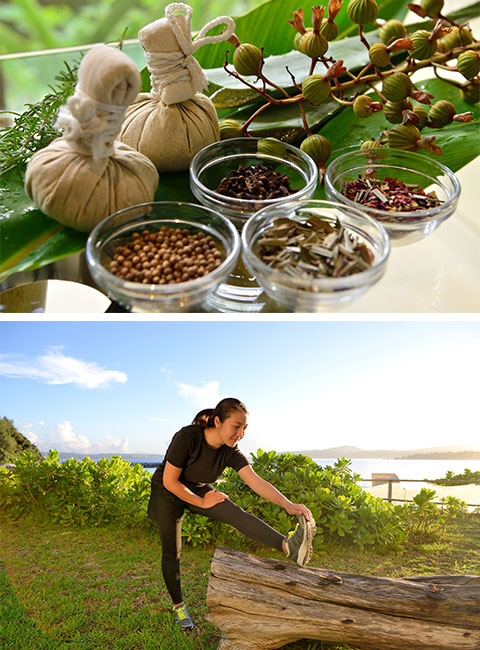 Shirodhara
A head massage using warm oil to reduce stress and anxiety.
Original Herbal Bag Craft
Craft your own original herbal bag and use it during one of this package's menus or take it home with you.
Morning Exercise
Morning exercise does not only reset your body clock but it also improves your body's blood circulation and overall well-being.
Package Meals
Ayurvedic meals will be prepared with food that your body can absorb easily.
Using ginger and cumin this package's meals will warm up your body and are easy to digest.
*These programs are only applicable to guests of The Terrace Club at Busena.
*Depending on your physical condition (e.g. pregnancy) we offer further programs best suiting your needs.
*The prices above are exclusive of tax.
Contact for Reservations & Inquiries: 0980-51-1115
Operating Hours: 9:00-22:00