News
November 18, 2021
New
Year's
Lucky
Bag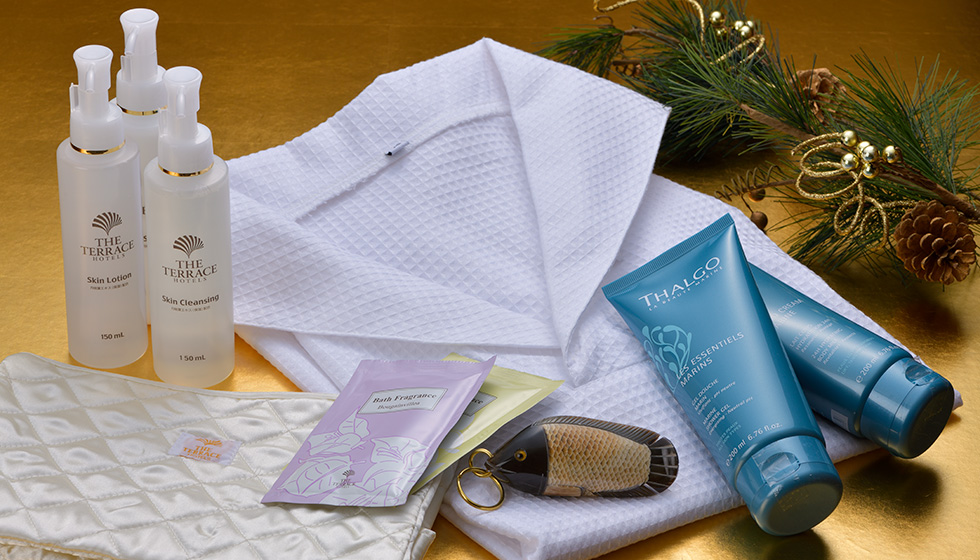 We have prepared The Busena Terrace's Original Lucky Bag to celebrate the new year. The bag contains an assortment of popular amenities such as loungewear and The Busena Terrace's Original 3 Item Skin Care Set. In addition to the amenities, there are dishes, tea bowls, and handmade yachimun (Okinawan pottery) teacups among other items in the Lucky Bag, hand-selected to add color to your life in the new year.
New Year's Lucky Bag
Available
January 1 – 10, 2022
Hours
"Hotel Selection" 9:00 a.m. – 8:00 p.m.
"Souvenir Shop" 9:00 a.m. – 6:00 p.m.

Location
"Hotel Selection" Central Tower 2F
"Souvenir Shop" Central Tower 3F

Price

Okinawa Yachimun Set – starting from JPY 5,000
Hotel Original Amenity Set – starting from JPY 10,000
(Inclusive of tax)
* Business hours are subject to change. Please refer to the hotel website or contact the hotel directly for the latest information before visiting.
◆Contact for Inquiries
THE BUSENA TERRACE "Hotel Selection" "Souvenir Shop"
0980-51-1333