La Tida Breakfast Buffet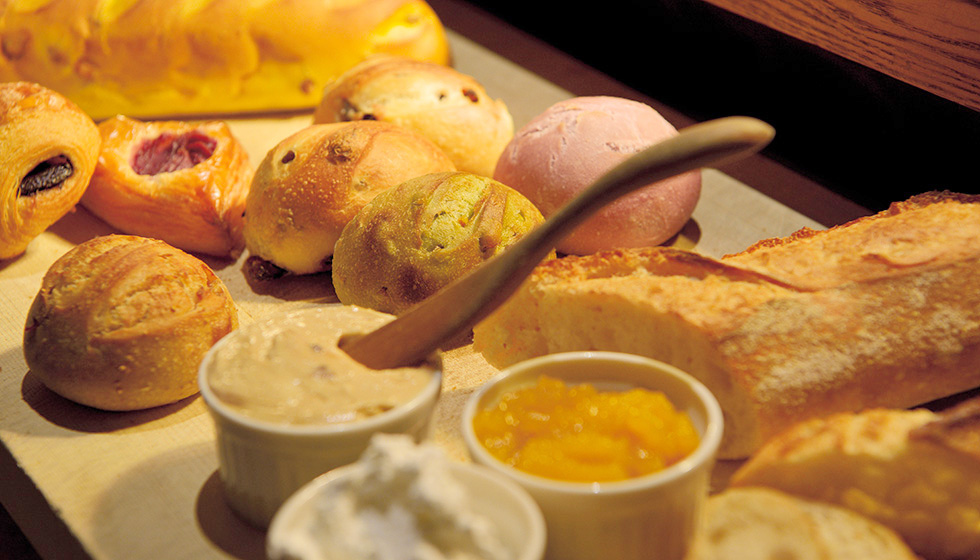 Indulge in fresh brewed coffee while watching the sea and enjoy the smell of omelets, bacon and pancakes from our open kitchen. Have a great start to your day with our breakfast buffet.
Available
All Year Round
Hours
6:30 a.m. - 10:30 a.m.

Location
Cafe Terrace "La Tida"
Price
Adult: 2,750 JPY per Person
Child (Up to Age 12): 1,375 JPY per Person
(subject to tax and service charge)
*Lunch Buffet (12:00-3:00 p.m.) and Dinner Buffet (5:30-9:00 p.m.) are available as well.
Recommended Dishes

"Pancakes and French Toast"
Every morning either pancakes or French toast will be served for breakfast. Best to enjoy with our homemade brown sugar butter.
Also don't miss out on our 16 different kinds of bread and fruits, fresh salad and daily changing hot buffet items.
Breakfast Buffet

Hot Buffet
Fish
Scrambled Egg
Boiled Egg
Bacon (2 Kinds)
Roasted Ham
Sausage (Daily Changing)
Potato Dish (Daily Changing)
Seasonal Vegetable Dish (Daily Changing)
Pasta Dish (Daily Changing)
Soup (Daily Changing)
Congee, Rice

Bread Choices
Croissant
Bread Roll(Raisin, Walnut, Butter, Coffee, Green Tea, Mango, Sugar Cane, Olive, White, Tomato)
Baguette (Plain, Whole-wheat, Rye, Graham, Chocolate, Bacon)
Danish Pastry (Okinawan Sweet Potato, Cheese, Chocolate)
Butter, Margarine, Honey, Maple Syrup
Terrace Hotels Original Jam (Pineapple, Hirami Lemon)
---
Chef's Corner
Fried Egg
Omelet
Toppings
Cheese, Onion, Taco Meat, Corned Beef, Potato, Mushroom, Pork Luncheon Meat
Pancakes or French Toast (Daily Changing)
Okinawan Sweet Potato Brulee
Beverages
Fruit Infused Water
Fruit Juice (Mango, Guava, Passion Fruit, Orange)
Mixed Vegetable Juice (Carrot and Orange, Yellow Vegetables and Mango, Violet Vegetables and Grape, Tomato and Carrot)
Milk
Coffee or Tea

Cereals, Yoghurt & Fresh Fruits
Cereal (Cocoa Krispies, All Bran, Brown Rice Flakes, Cornflakes, Fruits Granola)
Plain Yoghurt
Seasonal Pre-cut Fruits
Fruit Cocktail
Frost Sugar
Blueberry, Kiwi, Orange, Prune Compote
---
Breakfast Salad
Mixed Salad
Cherry Tomato
Corn
Cucumber
Mixed Beans
Celery
Cabbage
Potato Salad
Dressing (Italian, French, Hirami Lemon, Okinawa Orange, Okinawa Salt)
Toppings
Cold Buffet
Cold Meat
Emmental Cheese, Steppen Cheese
Dried Fruits
*Please note that our breakfast items are subject to market availability and may change without prior notice.