Mahae Japanese Breakfast
At "Mahae" we serve healthy breakfast with daily changing items such as local vegetables, meat and soup with boiled fish as well as items that are rich in dietary fiber such as five grains rice with sugar cane and Okinawan sea lettuce congee. Enjoy your stay at The Busena Terrace and have a splendid start to your vacation.
Available
All Year Round
Hours
7:00 a.m. - 10:00 a.m.
Location
Japanese Restaurant "Mahae"
Price
Japanese Set Meals 2,750 JPY per Person
Okinawan Set Meals 3,126 JPY per Person
Okinawan Set Meals include sea lettuce congee, boiled sardines and Japanese Pepper.
(All prices include a 10% service charge and are subject to consumption tax.)
Recommended Dishes
Japanese Set Meals & Okinawan Set Meals with Sea Lettuce Congee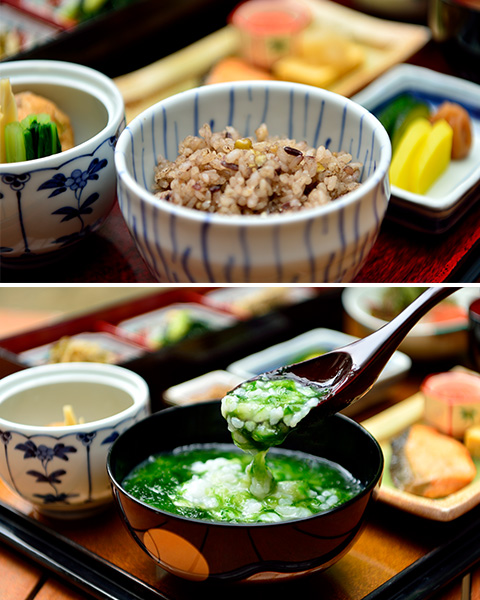 Delight in our Japanese Set Meals featuring five grains rice and sugar cane powder of local produce as well as seasonal vegetables and a delicious soup that has been carefully prepared by our chefs. Enjoy grilled fish, miso soup and Okinawan fluffy tofu.
Our Okinawan Set Meals include fresh sea lettuce congee which has been boiled in clam soup as well as sardines served with Japanese pepper.
Japanese Set Meals (Example Menu)
Fruit Juice
Side Dish
Stewed Taro Stem and Fried Tofu Served Cold
Okura with Sesame Dressing
Chikiagi (Okinawan Fried Fishcake)
Grilled Food
Grilled Fish
Japanese-style Rolled Omelet and Grated Japanese Radish with Soy Sauce
Cooked Dish
Boiled Winter Melon with Minced Chicken Starchy Sauce
Cold Dish
Fresh Vegetable Salad with Sea Grapes and Dressing
Main Dish
5 Grains Rice and Sugar Cane, White Rice, Congee
*Okinawan Set Meals including sea lettuce congee, boiled sardines and Japanese pepper are available at extra charge.
Seasoned Seaweed
Pickles
Soup
Miso Soup and Yushi Dofu (Fuffy Okinawan Tofu)
*The image is for illustrative purpose only.
*Please note that our breakfast items are subject to market availability and may change without prior notice.
◆Contact for Reservations & Inquiries
The Busena Terrace Restaurant Reservations
0980-51-1333