Welcome to the Ultimate Wellness Resort.
Okinawa's vast blue sky, sparkling sea, and lush greenery give sense of place to The Terrace Club At Busena,
a wellness destination designed for the discriminating traveler.
Our pampering hospitality, healthful cuisine, and thalassotherapies combine with the beautiful
natural surroundings for a total experience that will enhance and deepen your overall wellbeing.
---
Location
The sun, sea breezes, and lush greenery of Nago Bay at Cape Busena are backdrop to our hands-on service, healthful cuisine, and thalasso-inspired wellness programs-luxuries that will restore your natural rhythms and enhance your overall wellbeing.
---
Thalasso Pool
Local seawater from Cape Busena is heated to a comfortable range at or just below body temperature in this multi-feature pool. Massaging jets, aeration, and gentle currents create a number of zones for both aquarobics exercise and relaxation.
---
Thalasso Activities
Tailored wellness programs incorporate both aquarobics exercise in our multi-feature seawater pool and outdoor fitness components, leaving you recharged and relaxed.
---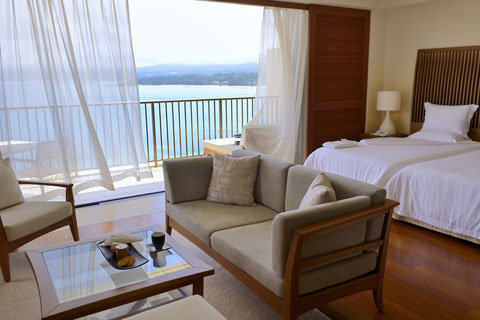 Guestrooms
An oasis for the mind, body, and sprit, our spacious guestrooms offer views of the sunset-tinted East China Sea or Nago Bay's emerald waters-an ever-changing display from your own private terrace. Designed for continuity with the outdoors, the serene and airy spaces are simply appointed in natural colors.
---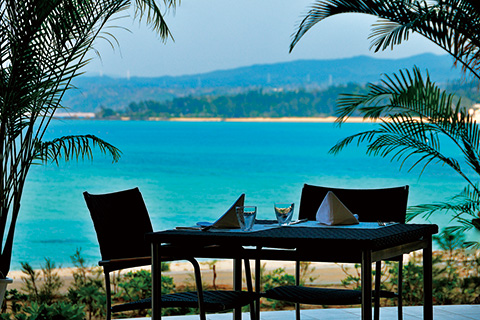 Restaurants
At Fine Dining, our main restaurant, thematic menus are creatively designed for different therapeutic effects. Library Lounge & Bar invites your leisure throughout the day, while after a workout light spa cuisine may be enjoyed at Thalasso Cafe.
* Only guests staying at The Terrace Club at Busena or the cottages at The Busena Terrace may use our facilities. There is a minimum age requirement of 13 to use the restaurant.
* Use of the cafe is for "Wellness Thalasso" guests only. There is a minimum age requirement of 13 to use.
---