News
The most representative herb of Okinawa, shell ginger, is a plant that blooms and bears fruit during the rainy season, flourishing in summer and slowly changing fragrance, color and appearance over time,bringing great inspiration.
Group YOGA
Participate in outdoor or studio group yoga surrounded by shell ginger foliage. Wrapped in the scent of shell ginger,awaken your body to its sensitivity, concentrating on the array of colors and lights that embellish The Terrace Club.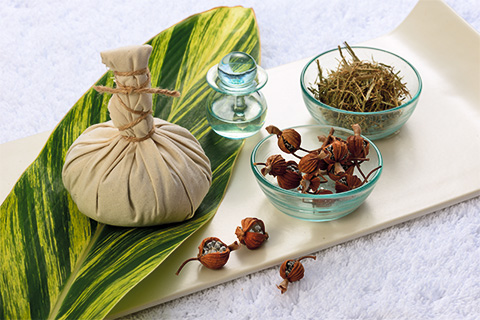 Shell Ginger Herbal Ball
Using a warm herbal ball wrapped with shell ginger leaves and seeds refreshingly fragrant, tap your whole body rhythmically along the spine. This treatment warms the body from the core and helps with the summer chills that many experience.
Program Details
Extended Wellness Program "KANKA"
Available
Jul. 1 - Sep. 30, 2020


*Reservations are required 14 days in advance.

Price
37,000 JPY per person

*Above rates do not include accommodation.
Menu contents
Body treatment to feel the shell ginger - 90 mins.
Includes shell ginger herbal ball, oil treatment and facial mask.
Group yoga to feel the sky transform - 30 mins.
1 meal of Wellness Cuisine "Kanka" included.
*This program is available only for guests staying at The Terrace Club at Busena (2 nights minimum).
*Consumption tax will be added to the above rates.
*Please contact us if check-in time will be later than 4:00 p.m.
Reservation/Contact: +81 (0)980-51-1115
Hours of Operation:9:00 a.m. - 10 p.m.(Mar. - Nov.)
      9:00 a.m. - 8 p.m.(Dec. - Feb.)