Local seawater from Cape Busena is heated to a comfortable range at or just below body temperature in this multi-feature pool. Massaging jets, aeration, and gentle currents create a number of zones for both aquarobic exercise and relaxation.
Hours
9 a.m. - 10 p.m. (Mar. - Nov.)
registration until 9 p.m.
9 a.m. - 8 p.m. (Dec. - Feb.)
registration until 7 p.m.
Thalasso Pool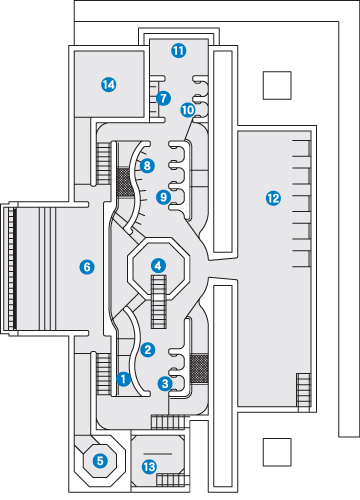 1. Walking Course
Warm up with walking. Try moving both with the flow of water and against it.
2. Leg Jets
Massage the lower legs from the ankles to the calves.
3. Hip Jets
Massage your buttocks, hips, and lower back.
4. Posterior Massage (36ºC / 96.8ºF)
Massage the rear side of the body from the ankles up to the shoulders.
The seawater here is comfortably set to body temperature.
5. Aerated Seawater Bath (36ºC / 96.8ºF)
Warm seawater relaxes you as aerated bubbles tone your skin.
6. Foot Jets (36ºC / 96.8ºF)
Recline in the water as micro jets massage the soles of your feet.
7. Lumbar Jets
Massage the lumbar region while in a sitting position.
8. Back Jets
Stand with the knees bent to massage the lower and upper back.
9. Shoulders & Neck Jets
Stand with the knees bent to massage the shoulders and neck.
10. Slimming Jets
Massage the lower back, buttocks, and the backs of the thighs.
11. Floor Jets
Enjoy the floating sensation as thousands of bubbles stream up from the floor to lift and support your body.
12. Fitness & Jet Pool
The gentle flow of the water here aids aquarobic exercise.
13. Seawater Pool
Cool down after your workout here, where the water is at room temperature.
14. Relaxation Pool (36ºC / 96.8ºF)
Water relaxation exercises are conducted here.
Thalasso Bio Tour
90 minutes* ¥4,000
Slow yet steady body conditioning via the hydro and heat therapies conducted in our pool and hammam, followed by an aerosol nap, works to quiet the sympathetic and enhance the parasympathetic nervous systems. The bio tour improves your breathing pattern, reduces muscular tension, decreases your heat rate, and enhances circulation.
*Conducted in groups of up to six people.
Thalasso Pool 30 minutes
Massaging jets and the warm buoyancy of the heated seawater in our pool aids a program of light exercise designed to improve circulation and boost your body's natural renewal.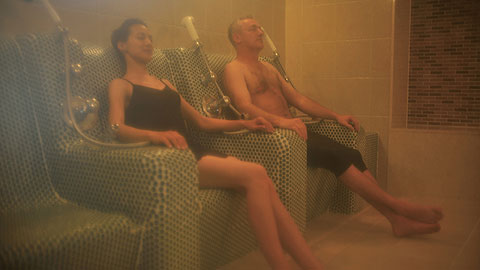 Hammam 30 minutes
Comfortably set at 40ºC, our steam sauna accelerates metabolism and promotes the elimination of toxins.
Aerosol Napping 30 minutes
Cleanse the respiratory system while relaxing in a fine mist of ionic seawater.
・All prices are subject to consumption tax.
・Personal consultation of 15 to 30 minutes will be added to your appointment.