Fine Dining Breakfast Buffet
Have a great start to the day and choose your main dish for breakfast. Indulge in freshly baked bread, housemade jam and original Eggs Benedict dishes for breakfast at The Atta Terrace Club Towers. Fresh vegetables and fruits are also available at our breakfast buffet.
| | |
| --- | --- |
| Available | All Year Round |
| Hours | 7:00 a.m. - 10:00 a.m. |
| Location | "Fine Dining" |
Select Your Main Dish
Have a great breakfast and select your own main dish from 1 of the following 2 sets of menus. The 2 sets of menus are changing daily to provide a variety of different breakfast choices for our long staying guests. Next to our main dishes, standard egg dishes are also available for you to choose from.
Set 1: Choose Your Main Dish from the Following Main Dishes (October - December):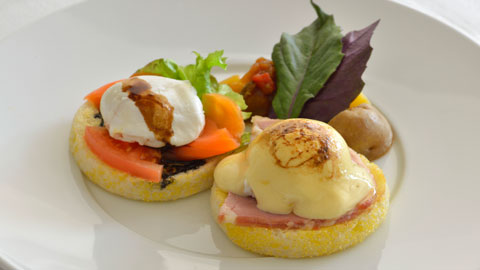 Eggs Benedict
Enjoy Eggs Benedict with smoked salmon, sliced tomatoes and balsamic sauce as well as with smoked ham and hollandaise sauce.
Blini Atta Style
Delight in a galette with cheese and ham as well as a soft boiled egg for breakfast.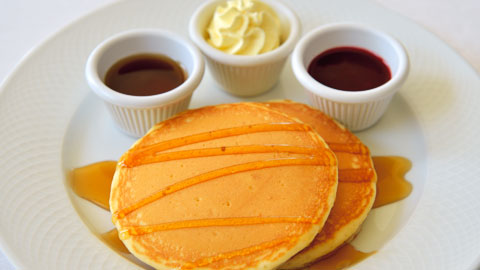 Pancake Atta Terrace Style
Indulge in soft pancakes with mascarpone cream, berry sauce and maple syrup.
Set 2: Choose Your Main Dish from the Following Main Dishes (October - December)
Eggslut & Garlic Toast
Delight in our eggslut dish with pureed potato, a soft boiled egg, genovese sauce and parmesan cheese served with garlic toast.
Quesadilla
Indulge in a delicious quesadilla filled with taco meat, beans, cheese and avocado wrapped in tortilla.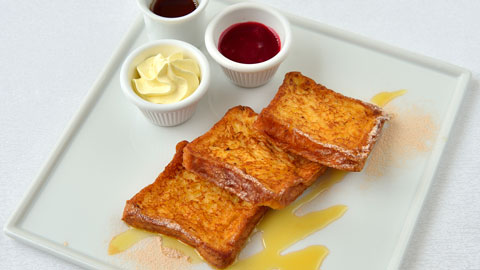 Brioche French Toast
Enjoy our brioche breakfast dish with Okinawan oranges, caramel and berry sauce as well as mascarpone cream.
Standard Dishes (Egg Dishes)
Omelet or Scrambled Eggs? Choose 1 out of the following egg dishes:
Boiled Eggs
Plain Omelet
Fried Eggs
Scrambled Eggs
Breakfast Buffet
Juice and Milk

Fresh Juice (Daily Changing)
Mango, Orange, Pineapple or Guava
Vegetables and Fruits Mixed Juice (Daily Changing)
Violet Vegetables and Grapes, Tomatoes and Carrots or Yellow Vegetables and Mangos
Milk
Soy Milk
Mineral Water
Water Infused with Herbs from the Atta Garden
Hot from the Oven

Croissants
Danish Pastry(Custard, Chocolate, Apple Pie)
Pain de Mie (Okinawan Sweet Potato, Rye, Plain)
Rice Flour Bread (Daily Changing)
Olive or Tomato
Confiture
Okinawan Sweet Potato Jam, Strawberry Jam, Pineapple Jam, Blueberry Jam
Salt-Free Butter, Honey, Maple Syrup
---
Cereals, Yoghurt, Fruits

Cereals(All Bran, Soy Granola, Fruit Granola)
Plain Yoghurt
Fresh Fruits (Melon, Pineapple, Orange, Grapefruit, Kiwi)
Fruit Sauce (Blueberry Sauce, Kiwi Sauce, Mango Sauce, Acerola Gelée)
Soup, Pasta

Soup (Daily Changing)
Vegetable Bouillon Soup or Onion Soup
Pasta (Daily Changing)
Tomato and Bacon Pasta or Japanese -style Vegetable Pasta
Condiments
Dried Vegetable Mix (Sweet Potato, Green Radish, Japanese Red Radish, Carrot, Satoimo)
Grated Cheese (Grana Padano)
---
Salad

Red Leaf Lettuce, Green Leaf Lettuce, Red-leaved Chicory
Cherry Tomato
Goya Bitter Melon
Red Pepper, Yellow Pepper
Coleslaw
Cucumber
Salad (Daily Changing)

Sliced Red Onion
Broccoli
Red Radish Sprouts
Whole Corn
Spider Mustard
Cauliflower
Julienned Red and Yellow Carrot
Sliced Celery
Seaweeds
Potato Salad
Egg Salad
Cold Meats, Delicatessen, Cheese, Topping

Marinated Salmon
Caprese
Escabeche of Double-lined Fusilier
Marinated Shrimp and Winter Melon
Bean-starch Vermicelli Salad
Marinated Turnip and Broiler
Marinated Colorful Vegetables
Beer Salami
Bologna Sausage
Stuffed Olive, Black Olive
Genovese Sauce
Mustard Relish
Cheese
Dried Fruits
Cracker
Terrace Hotels Original Dressing (Okinawa Orange "TANKAN", Hirami Lemon)
French Dressing, Italian Dressing, Sesame Dressing, Japanese-style Onion Dressing
*Please note that our breakfast items are subject to market availability and may change without prior notice.
◆Contact for Reservations & Inquiries
The Atta Terrace Club Towers
098-983-3333