"Tandigatandi"
Delight in our new summer menu "Tandigatandi" meaning "profound gratitude" in the dialect of Miyako Island. Foie gras poêlé is served with peanut tofu rolled in kadaif noodles. Fresh lobstar is roasted with butter and served with a slice of rusk made of "fu" (baked wheat gluten). Enjoy Okinawa vegetables and ingredients skillfully prepared in front of you.
Available
July 1 - September 30, 2018
Hours
5:30 - 10:00 p.m.(L/O 9:30 p.m.)
Location
Teppanyaki Restaurant "Ryutan"
Price
25,000 JPY per Person
(All prices include a 10% service charge and are subject to consumption tax.)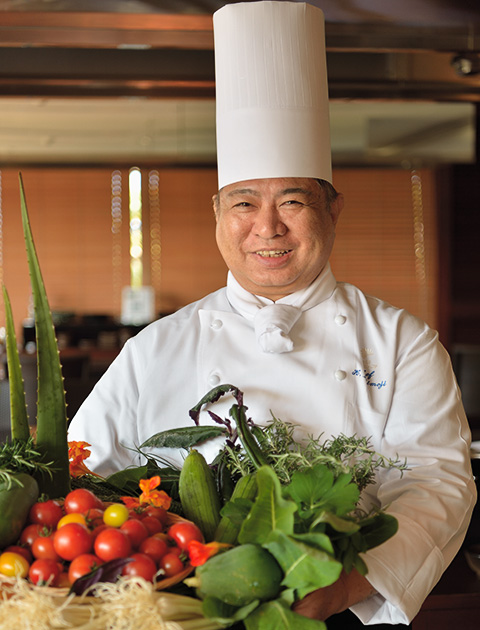 Koji Shimoji Chef, Teppanyaki Restaurant "Ryutan"
It is Chef Shimoji from Miyako Island who creates Ryutan's menus with unique names. He smiles slyly and says "Little number of our guests understand what it means as it is the dialect of Miyako Island." Dinner starts with the interpretation of the menu name opens a conversation with guests and make the dinner delightful. 18 years have passed since he started his career in the Terrace Hotels and his warm service with grateful heart has been developing strong ties with guests.
◆Contact for Reservations & Inquiries
The Atta Terrace Club Towers
098-983-3333