"Tandigatandi"
Our new summer menu "Tandigatandi" features foie gras poêlé with peanut tofu stuffed kadaif noodles and fresh butter roasted lobster with rusk. Indulge in a course dinner full of Okinawan vegetables and delicacies prepared by very skilled chefs who cook right in front of you.
Available
July 1 - September 30, 2018
Hours
5:30 p.m. - 10:00 p.m.(L/O 9:30 p.m.)
Location
Teppanyaki Restaurant "Ryutan"
Price
25,000 JPY per Person
(All prices include a 10% service charge and are subject to consumption tax.)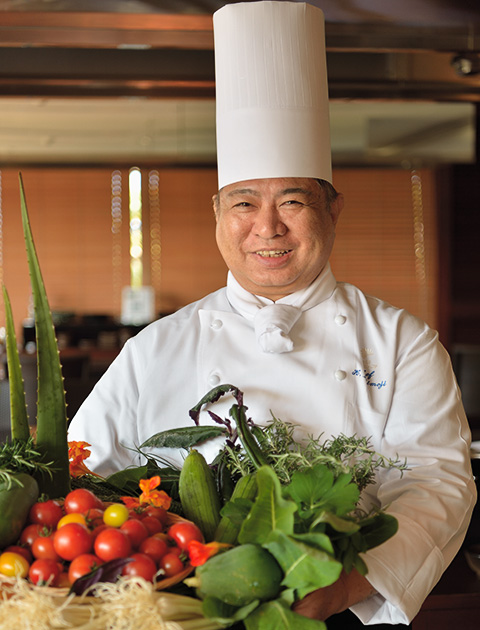 Chef Koji Shimoji
Teppanyaki Restaurant "Ryutan"
It is Chef Shimoji who gives unique names to Ryutan's menus including "Tandigatandi" meaning "profound gratitude" in the dialect of Miyako Island, the home of Chef Shimoji. As only a few number of people understand what these menu titles mean, Chef Shimoji ususally uses them to break into a conversation with his guests and ensures a delightful dinner time. In the 18 years that Chef Shimoji has worked for The Terrace Hotels he built strong relationships with his guests and remains positive to continuously provide excellent service.
◆Contact for Reservations & Inquiries
The Atta Terrace Club Towers
098-983-3333