Fine Dining Breakfast
Enjoy a semi-buffet style breakfast with freshly baked breads and original jams. Choose your main egg dish from our recommended original menu or have it cooked just the way you enjoy it best. Additionally, salads and fruits are also served in a buffet style format for you to enjoy a luxurious breakfast while overlooking the refreshing poolside views.
| | |
| --- | --- |
| Available | All Year Round |
| Hours | 7:00 a.m. - 10:30 a.m. |
| Location | Fine Dining |
Recommended Main Dishes:
Choose your favorite main dish from our menu items or any of the standard egg dishes.
Daily Changing Menu (Main Dish) 1/8 - 3/31
Monte Eggs Benedict
It is a plate that you can enjoy two kinds of Egg Benedict, original and standard.
Poached Egg
Raw Ham
Sauteed Mushroom
Tomato Slice
Smoked Ham
Relish Hollandaise
Hollandaise Sauce
Muffin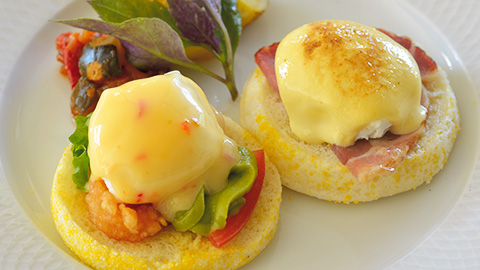 Atta Egg Benedict
It is a plate that you can enjoy two kinds of Egg Benedict, Smoked Ham and Small Shrimp.
Poached Egg
Shrimp
Smoked Ham
Lettuce
Avocado Dip
Tomato
Cream Chili Sauce
Hollandaise Sauce
Muffin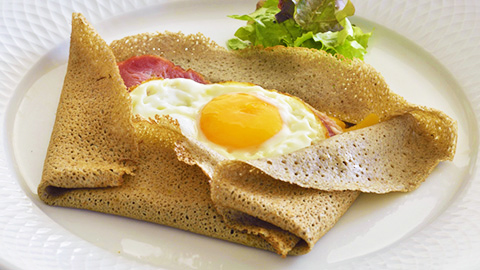 Galette Atta Style
It is arrange for Galette in Atta Style.
Galette
Egg
Mix Cheese
Smoked Ham
Lettuce
Dressing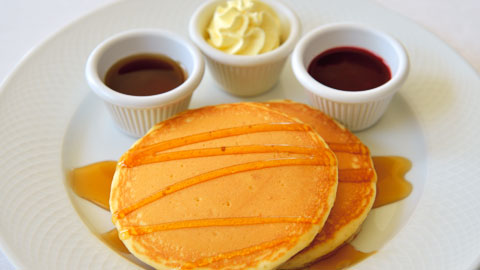 Pancake Atta Style
Original Pancake with Berry Sauce and Mascarpone Cream.
Pancake (Two Sheets)
Berry Sauce
Mascarpone Cream
Maple Syrup
Daily Changing Menu (Main Dish) 1/8 - 3/31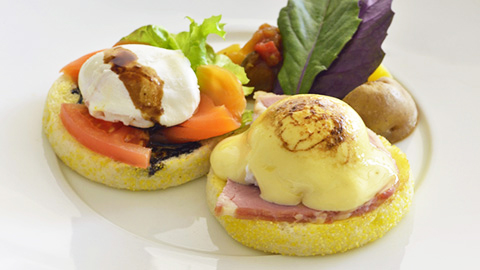 Basic Egg Benedict
It is a plate that you can enjoy of Egg Benedict, Smoked Salmon and standard.
Poached Egg
Smoked Salmon
Smoked Ham
Lettuce
Sliced Tomato
Balsamic Vinegar
Hollandaise Sauce
Muffin
Garden Egg Benedict
It is a plate that you can enjoy two kinds of Egg Benedict.
Poached Egg
Lettuce
Sliced Tomato
Avocado
Eggplant
Smoked Ham
Basil Hollandaise Sauce
Hollandaise Sauce
Muffin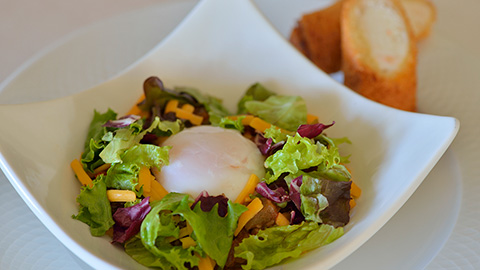 Okinawan Cocotte
Fried Shrimp with Toast
Tomato Sauce Stewed Vegetables topped with boiled egg and served with fried shrimp toast.
Hot Spring Egg
Sauce Shakushka
Lettuce
Cheddar Cheese
Fried Toast with Shrimp
Popover
Popover is a dessert cuisine that baked with plenty of eggs with banana, sweet Potato, mascarpone cream.
Popover
Sweet Potato
Apple
Raisin
Custard Sauce
Berry Sauce
Mascarpone Cream
Cinnamon Sugar
Granola
Standard Eggs Plate (Please choose the main dish from the following egg styles.)
Omelette
Fried Egg
Scrambled Egg
Boiled Egg
Breakfast Buffet
Fruit Juice(Daily Changing)
Mango・Orange・Pineapple・Guava
Vegetable fruit mix juice(Daily Changing)
Violet Vegetables and Grape・Tomato and Carrot・Yellow Vegetables and Mango
Milk
Soy Milk
Mineral Water
Herb Water
Croissant
Danish(Custard、Chocolate、Apple Pie)
Plain bread(Okinawan Sweet Potato、Rye、Plain)
Rice flour bread(Daily Changing)
Olive・Tomato
Confiture
Okinawan Sweet Potato、Strawberry
Pineapple、Blueberry
Unsalted butter、Honey、Maple Syrup
---
Cereals
Plain Yogurt
Fruit(Melon、Pineapple、Orange、Grapefruit、Kiwi)
Fruit Sauce(Blueberry、Kiwi、Mango、Acerola)
Soup(Daily Changing)
Vegetable bouillon soup・Onion soup
Pasta(Changes Daily)
Bacon-Tomato・Japanese style vegetable
Condiments
Dried Vegetable Mix
Grated cheese
---
Lettuce
Grape Tomato
Goya
Red bell pepper、Yellow bell pepper
Coleslaw
Cucumber
Red onion slice
Broccoli
White radish sprouts
Whole corn
Mizuna green
Cauliflower
Shredded Red Carrot, Shredded Yellow Carrot
Celery slice
Seaweed
Potato Salad
Egg Salad
Gravadlax
Caprese
Gurukun Escabeche
Marinated Shrimps and White Gourd
Vermicelli Salad
Marinated Turnips and Chicken
Marinated Colorful Vegetables
Salame
Mortadella
Stuffed olive、Black olive
Genovese sauce
Mustard Relish
Cheese
Dry Fruit
Cracker
Terrace Hotels Original Dressing (Shikwasha, Tankan)
French dressing、Italian dressing、Sesame dressing、Japanese style onion dressing
*Please note that our breakfast items are subject to market availability and may change without prior notice.
◆Contact for Reservations & Inquiries
The Atta Terrace Club Towers
098-983-3333