Fanuan Breakfast Buffet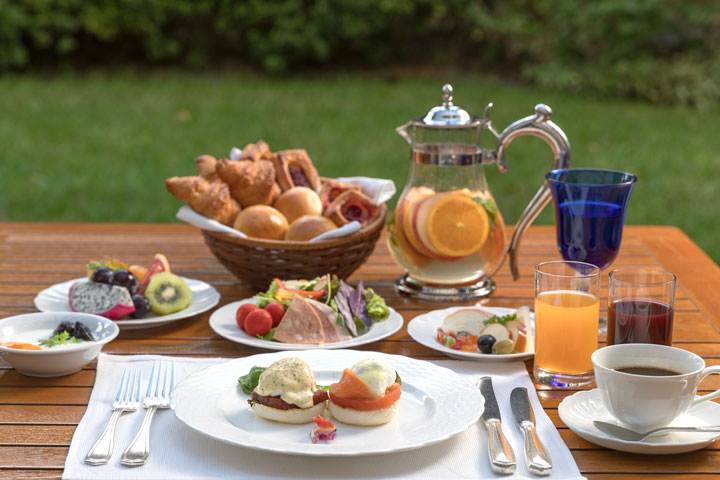 Enjoy a fabulous breakfast at "Fanuan" and choose your main dish from 5 different dishes including Eggs Benedict and Shikuwasa Pancake and indulge in freshly baked bread and housemade jam. Fresh Okinawan vegetables and fruits are also available at our breakfast buffet.
Available
All Year Round
Hours
7:00 a.m. - 10:00 a.m.

Location
Restaurant "Fanuan"
Price
Fanuan Breakfast
2,400 JPY per Person
(subject to tax and service charge)
Select Your Main Dish
Choose your main dish out of 5 different main dishes and enjoy a splendid semi-breakfast buffet at "Fanuan".
Main Dishes (9/1-)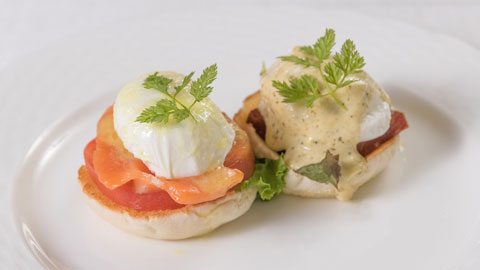 Terrace Style Eggs Benedict
Pork luncheon meat and marinated salmon with hollandaise and truffle sauce.
Shikuwasa Pancake with Zenzai
Enjoy shikuwasa citrus flavored pancake with zenzai (sweet red bean).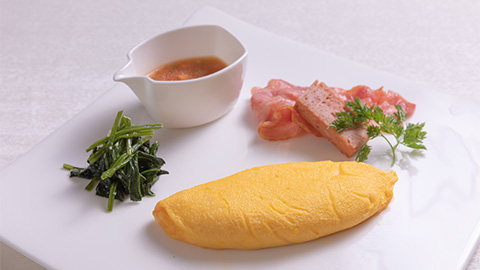 Chef's Special Omelet with Tomato sauce
Taste our chef's fluffy and soft omelet with original sauce of fresh tomato and coriander.
Jasmine Tea Flavored Scone Sandwich
Delicious jasmine tea flavored scone sandwiched with chicken and refreshing ravigote sauce.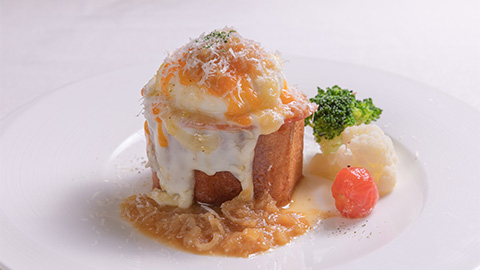 Original Croque Madam
Rich taste of brioche bread topped with poached egg, bechamel sauce and cheese.
Fanuan Breakfast
Hot from the Oven

Toast
Baguette
Croissant
Pain au Chocolat
Bread Roll (Brown Sugar, Sea Lettuce, Plain, White)
Danish Pastry (2 Kinds of Okinawan Sweet Potatoes)
Muffin (Caramel Nuts, Blue Berry)
Salt-Free Butter, Honey
Terrace Hotels Original Jam
Okinawan Sweet Potato Jam
Olive Oil
Juice, Milk

Violet Vegetables and Grape Mix Juice
Yellow Vegetables and Mango Mix Juice
Tomato Juice
Milk
Fruit Infused Water
Herb Infused Water
Cereal, Yoghurt, Fruits

Fruits Granola
Cornflakes
Chocolate Cereal
Oatmeal
Plain Yoghurt
Fresh Fruits
Prune
Fruit Sauce
Aloe and Chia Seed
---
Salad

Lettuce
Okinawan Bitter Melon
Papaya
Okinawa Spinach
Okura
Cucumber
Paprika
Pea Sprout
Spider Mustard
Sliced Onion
Corn
Carrot
Mixed Beans
Seaweed
Olive
Potato Salad
Terrace Hotels Original Dressing
(3 Kinds)
Several Toppings
Vegetables

Spicy Sauteed Papaya
Boiled Vegetables
Lyonnaise Potatoes
Soup of the Day
Cheese, Cold Dish

2 Kinds of Cheese
Dried Fruits
Several Choices of Cold Meat
Melba Toast
Dessert

Tropical Jelly
Okinawan Sweet Potato Panna Cotta
*Please note that our breakfast items are subject to market availability and may change without prior notice.
◆Contact for Reservations & Inquiries
The Naha Terrace Restaurant Reservations
098-864-1111