Our gift shop carries Okinawan handicrafts and souvenirs, select international accessories,
and original Naha Terrace items and gifts.
| | |
| --- | --- |
| Hours | 8 a.m. - 10 p.m. |
| Location | 1F |

We offer Tax-Free shopping for our customers from overseas.
※Passport is required for Tax-Free shopping.
Featured Products
Okinawan Sweets & Cookies
Bring a taste of Okinawa to teatime with traditional chinsuko biscuits and cookies made with local ingredients.
Okinawan Cookies(100g)
Okinawan Hibiscus Cookies(100g)
Okinawan Salt Cookies(100g)
Okinawan Brown sugar Cookies(100g)
Beni-imo Cookies(100g)
Brown Sugar Roasted Nuts(120g)
Price:¥750 each(exclusive of tax)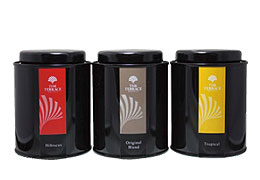 Original Teas
Each of our several original teas makes a highly fragrant, elegant infusion.
Original Blend(50g)
Tropical(45g)
Rose Jasmine(35g)
Earl Grey(45g)
Darjeeling(40g)
Price:¥1,204 each(exclusive of tax)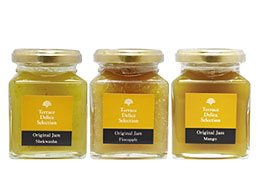 Original Jams
Blend in yogurt or spread on toast, muffins, or croissants for a delectable start to your day.
Pineapple(200g)
Shikuwasa:Citrus Fruits(200g)
Price:¥815 each(exclusive of tax)
Mango(200g)
Price:¥908 each(exclusive of tax)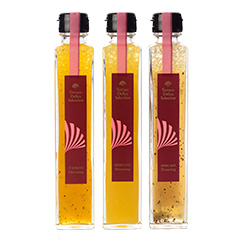 Original Dressings
Brighten salads and grilled dishes with these blends made to our chef's own recipe.
TANKAN Dressing(200ml)
Shikuwasa:Citrus Fruits Dressing(200ml)
Sima salt Dressing(200ml)
Price:¥908 each(exclusive of tax)
Original Juices
These stylishly bottled fruit nectars deliver the sunkissed taste of Okinawa to your table.
Passion fruit(300ml)
Hibiscus(300ml)
¥1,149 each(exclusive of tax)
Shikuwasa:Citrus Fruits(300ml)
Guava(300ml)
Price:¥1,241(exclusive of tax)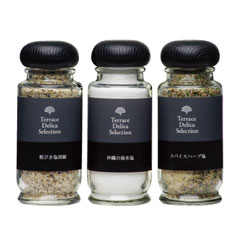 Original Salt & Pepper Blends
Punch up the flavors of your favorite ingredients with Okinawa's mineral-rich, well-rounded sea salt.
Okinawan Sea Salt(80g)
Spice & Herb Sea Salt(70g)
Sea Salt & coarsely ground pepper Blends(75g)
Price:¥750 each(exclusive of tax)
Pork Miso & Mozuku Seaweed Preserves
Classic Okinawan pork miso and spreadable preserves made from mozuku seaweed are perfect complements to freshly steamed rice.
Pork Miso(140g)
Mozuku Seaweed Preserves(140g)
Price:¥667 each(exclusive of tax)
Original Fruit Vinegars
Two citrus vinegars—sour shikwasa and mildly sweet tankan—make refreshing tonics when blended with still or sparkling water.
Fruit Vinegar Shikuwasa(Citrus Fruits)(200ml)
Fruit Vinegar TANKAN(200ml)
Price:¥1,149 each(exclusive of tax)
All prices are subject to consumption tax.