We have a wide selection of Okinawan yachimun (pottery), traditional handicrafts, and original hotel products.
| | |
| --- | --- |
| Hours | 8 a.m. - 10 p.m. |
| Location | Main building 1F |
* We will be closed on Mondays and Thursdays.
* Notice of business hours change: 10 a.m. - 6 p.m.
* Business hours are subject to change without prior notice.


We offer Tax-Free shopping for our customers from overseas.
※Passport is required for Tax-Free shopping.
Featured Products
Okinawan Sweets & Cookies
Bring a taste of Okinawa to teatime with traditional chinsuko biscuits and cookies made with local ingredients.
Okinawan Cookies(100g)
Okinawan Hibiscus Cookies(100g)
Okinawan Brown sugar Cookies(100g)
Beni-imo Cookies(100g)
Brown Sugar Roasted Nuts(120g)
Price:¥930 each
Original Teas
Each of our several original teas makes a highly fragrant, elegant infusion.
Original Blend(50g)
Tropical(45g)
Rose Jasmine(35g)
Earl Grey(45g)
Darjeeling(40g)
Price:¥1,300 each
Original Jams
Blend in yogurt or spread on toast, muffins, or croissants for a delectable start to your day.
Pineapple(200g)
Shikuwasa:Citrus Fruits(200g)
Price:¥890 each
Mango(200g)
Price:¥990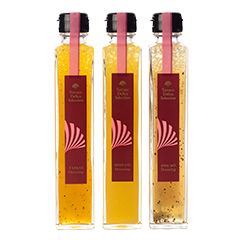 Original Dressings
Brighten salads and grilled dishes with these blends made to our chef's own recipe.
TANKAN Dressing(200ml)
Shikuwasa:Citrus Fruits Dressing(200ml)
Sima salt Dressing(200ml)
Price:¥1,058 each
Original Juices
These stylishly bottled fruit nectars deliver the sunkissed taste of Okinawa to your table.
Passion Fruit(300ml)
Price:¥1,400
Shikuwasa:Citrus Fruits(300ml)
Guava(300ml)
Price:¥1,500 each
Original Salt & Pepper Blends
Punch up the flavors of your favorite ingredients with Okinawa's mineral-rich, well-rounded sea salt.
Okinawan Sea Salt(80g)
Spice & Herb Sea Salt(70g)
Sea Salt & coarsely ground pepper Blends(75g)
Price:¥820 each
Ryukyu Pork Miso
Stir-fried miso and pork, a taste that has been long loved by Okinawans.It is an everyday dish which goes well with rice.
Price:¥750
All prices include consumption tax.