Make the most of your stay.
During your stay with us, we invite you to take full advantage of our many facilities and services. In addition to an outdoor pool, we offer a men's sauna and an esthetic room for our female guests. Our chauffeured fleet of cars may be hired for touring or shopping, and a complimentary shuttle service links the hotel with all other Terrace properties.
Facilities and Services
Outdoor Pool
Lush subtropical landscaping surrounds our pool, an open oasis of light and sky in the city.
Location
Main building 2F
Hours

April to September: 10 a.m. - 7 p.m.
Closing time is sunset, when earlier than 7 p.m.
Gym
A gym is exclusively for the guests of The Naha Terrace and residents of The Naha Terrace Club Residence.
It is equipped with treadmills, aerobikes and other training equipments.
| | |
| --- | --- |
| Location | Annex 1F |
| Hours | 7 a.m. - 10 p.m. |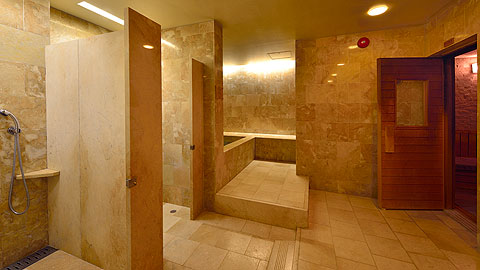 Men's Sauna
Our male guests may unwind and refresh in our dry sauna, or book a massage in our relaxation facility.
Location
Main building 2F
Hours
2 p.m. - 10 p.m.
Fee

¥2,200 per person (Outside visitors)
¥1,650 per person (Guests)
*The above fee is waived for Club Floor guests.
*All prices are subject to consumption tax.
In-Room Relaxation Service
You can enjoy our relaxation service in your guest room. Male guests may also book a massage in our dedicated room on the second floor.
Hours
Guest Room
3 p.m. - 1 a.m.

Relaxation facility (Male guests only)
3 p.m. - 9 p.m.
In-Room Dining
Breakfast, lunch, and dinner may be ordered via room service.
Hours

Breakfast 7 a.m. - 11:30 a.m.
Lunch and Dinner 11:30 a.m. - 11 p.m.
Beverages 7 a.m. - 11 p.m.
Other
Roger's Flagship Naha
The long-established, multi-brand retail store "Roger's" from Okinawa City
will open a new store in Naha offering products in categories such as fashion, interiors and a wide range of international products.
| | |
| --- | --- |
| Location | Annex 2F |
| Hours | 11 a.m. - 8 p.m. |
Roger's Official Site
The Change of Business Hours within Facilities
Please be advised that some of our facilities will change its business hours temporarily. We apologize for any inconvenience and offer our sincere appreciation for your patience and support.
Transportation Services
The Terrace Hotels Shuttle Service (complimentary)
For registered guests, a complimentary shuttle service links all of the Terrace hotels. Reservations are recommended and must be placed by 10 p.m. of the previous day.
Hired Cars (charges apply)
We are pleased to offer a fleet of deluxe chauffeured cars to accommodate the sightseeing, shopping, and business needs of our registered guests. Advance reservations are recommended.
Please Conceal Your Tattoos
At all Terrace Hotel properties, tattoos of any kind may not be shown when on hotel premises. Within the lobby, restaurants, and other public spaces, please wear attire that fully conceals them. Likewise, a rash guard or other appropriate swimwear that conceals your tattoo(s) is required when using our pools.