We offer many ways to enjoy Okinawa's sun and sky, from a mangrove excursion by kayak to on-site golf lessons, outdoor yoga practice, and garden tours.
Golf Lesson
After a lesson on the basics, enjoy playing a few holes on the rolling greens and fairways of our course.
Monday and Tuesday from 3:30 p.m. - 5:30 p.m.
Fee: Complimentary
Venue: The Atta Terrace Golf Resort
Capacity: 4
Reservations required
Garden Seminar
Tour our Kitchen Garden to learn more about the heirloom produce and herbs we grow. Participants can harvest their own vegetables and have them prepared by our chefs at dinner.
Thursday and Saturday from 10 a.m. - 11:30 a.m.
Fee: Complimentary
Venue: Chefs' Garden
Capacity: 6
Reservations required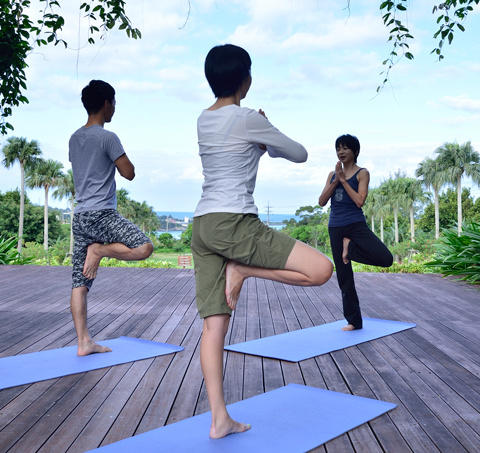 Morning Yoga
In the fresh morning air of our garden, start your day with an energizing session of yoga to open and lift your senses.
Daily from 8 a.m. - 8:45 a.m.
Fee: Complimentary
Venue: Azumaya (The Garden)
Capacity: 8
Reservations required
Mangrove Tour
Paddling your kayak through a mangrove swamp, you'll experience Okinawa's subtropical beauty, diverse plant and wildlife, and the delicate balance of the tidal ecosystem up close.
Capacity: 4
Duration: 3 hours
Fee: ¥7,000 per person (exclusive of tax)
Ocean Fun(The Busena Terrace)
This action-packed program includes a cruise as well as canoe and snorkeling lessons.
Capacity: For groups of 2 - 15
Duration: 2 hours
Fee: ¥6,500 per person (exclusive of tax)
※Complimentary drink included