Handicrafts by local artisans are available for purchase here, along with original Atta Terrace goods and select stylish gifts.
Hours: 08:00 to 22:00
Select Offerings
Ryukyu Awamori: "Busena"
Aged in oak casks, our original awamori is richly mellow, with a well-balanced character.
¥1,000 (200 ml)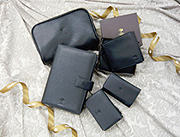 Original Leather Accessories
The soft luster of our premium leather goods makes them an attractive gift for men and women alike. Each item is unobtrusively embossed with the Terrace Hotels logo.
Bifold Wallet ¥6,700
Card Case ¥4,300
Six-Ring Keychain ¥5,000
Travel Clutch ¥8,500
Personal Organizer ¥10,000
※All prices are subject to consumption tax.