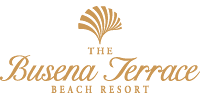 Nestled among the lush trees and white sands of the picturesque Cape Busena in Nago, just 90 minutes from Naha Airport in northern Okinawa, The Busena Terrace awaits your arrival to a contemporary island oasis where spacious guestrooms, round-the-clock butler service, enticing shops and restaurants, sybaritic spa treatments and an exciting range of marine and other outdoor activities invite your complete restoration and relaxation.
Throughout all of the resort's spaces, an open continuity and connectivity with nature prevails. Let the magical interplay of light, sky, wind and water here lift your spirit, as our ever-attentive staff pamper you with Busena's unparalleled hospitality.
Click here for maps and information on the available methods of transport to the resort.
View maps of the resort and its facilities, or download the PDFs.
Make the most of your stay in Okinawa by visiting the many alluring destinations nearby.
Review this section for facility facts and other things to "know before you go."
We've compiled all of our FAQ into one place. Many of the answers you're seeking may be found here.
A selection of our brochures and pamphlets may be viewed here.