Make the most of your stay.
During your stay, we invite you to take full advantage of our many facilities and services.
Our library, private beach, indoor and outdoor pools, gym, and sauna are free of charge, as is the shuttle bus connecting points on the Cape and our shuttle service linking the resort with other Terrace hotels. In addition, our chauffeured fleet of cars may be hired for touring or shopping.
Beach and Pools
In addition to enjoying the surf and combing the white sands of our 760-meter beach, take advantage of our landscaped outdoor pools as well as our indoor pool that's open year-round.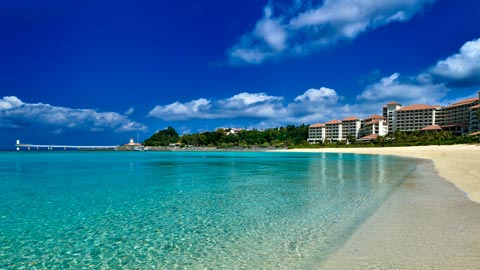 Beach
Enjoy the clear waters and gentle surf of our private beach.
Period
All year round
*Business hours may change subject to seasons.
Outdoor Pools
Enjoy a cooling, bracing swim in our two pools connected by a cascading waterfall. The lower-tier pool is equipped with a water slide.
Period
4/1-11/30
*Business hours may change subject to seasons.

Indoor Pool
Open year-round, our indoor swimming facility includes a shallow pool for young children.
Period

All year round
*9:00 a.m. - 9:00 p.m.
Facilities
Spa and Sauna
Refresh yourself at the end of the day or after a workout with a visit to our spa baths and dry sauna facilities for men and women.
| | |
| --- | --- |
| Location | South Tower, 2F (entrance is on 1F) |
| Hours | 9 a.m. - 10 p.m. |
* Due to maintenance, Spa and Sauna will be closed during Dec.1 - 17.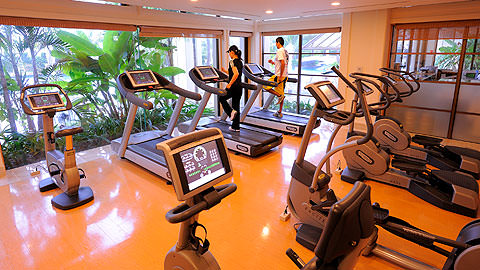 Gym
Continue your daily workout regimen at our sun-filled gym. Trainers are on hand to assist with use of the running machines, Aerobikes, and other equipment.
| | |
| --- | --- |
| Location | South Tower, 1F |
| Hours | 9 a.m. - 10 p.m. |
Library
Check the paper, get online, or simply unwind with a newly discovered book or favorite magazine in the soothing environment of our Library.
| | |
| --- | --- |
| Location | Central Tower, 3F |
| Hours | 7 a.m. - 10 p.m. |
Services
In-Room Dining
Breakfast, lunch, and dinner may be ordered via room service.
Hours

Breakfast 7 a.m. - 11 a.m.
Lunch 12 p.m. - 3 p.m.
Dinner 5:30 p.m. - 10 p.m.
All Day Selections 7 a.m. - 11 a.m.
Beverages 7 a.m. - 11 a.m.
In-Room Relaxation Service
You can enjoy our relaxation service in your guest room or our relaxation facility. Please contact Butler Service for an appointment.
Hours
Guest Room
1 p.m. - 1 a.m.

Relaxation facility
1 p.m. - 10 p.m.

Relaxation facility
South Tower, 1F
The Change of Business Hours within Facilities
Please be advised that some of our facilities will change its business hours temporarily. We apologize for any inconvenience and offer our sincere appreciation for your patience and support.
Transport Services
A complimentary shuttle bus links points within the resort while our shuttle service may be used by registered guests to visit other Terrace hotels. For day trips or other outings, our fleet of deluxe cars is available for hire.
Our chauffeured fleet of deluxe cars may be hired for transport between the airport and hotel, or for touring and shopping during your stay with us.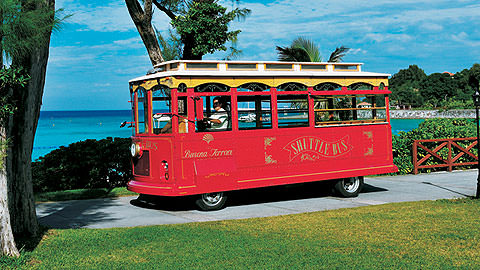 Shuttle Bus (complimentary)
A complimentary shuttle bus links points of interest on Cape Busena. See our Resort Map for bus stop locations
The Terrace Hotels Shuttle Service (complimentary)
For registered guests, a complimentary shuttle service links all of the Terrace hotels. Reservations are recommended and must be placed by 22:00 (10 p.m.) of the previous day.
*Please note that only registered guests of the Atta Terrace Club Towers may disembark at that location.


Hired Cars (charges apply)
We are pleased to offer a fleet of deluxe chauffeured cars to accommodate the sightseeing, shopping, and business needs of our registered guests. Advance reservations are recommended.
Please Conceal Your Tattoos
At all Terrace Hotel properties, tattoos of any kind may not be shown when on hotel premises. Within the lobby, restaurants, and other public spaces, please wear attire that fully conceals them. Likewise, rash guards or other appropriate swimwear are required at our pools and on the beach.