Club Privileges for Enhanced Luxury
An oasis for guests with Club Floor privileges, Club Lounge offers streamlined check-in and check-out service;
enticing breakfast, afternoon tea, and sunset cocktail presentations; and a team of multilingual guest relations officers
who will see to your every need.
Club Lounge
For those guests with Club Floor privileges, dedicated guest relations officers perform check-in and check-out procedures and address all concierge needs at the Club Floor lounge.
The Club Lounge is strictly a non-smoking facility.
Hours: 7 a.m. - 8 p.m.
Continental Breakfast
7 a.m. - 10 a.m.
In a sunlit setting, enjoy a leisurely breakfast prepared with select local ingredients.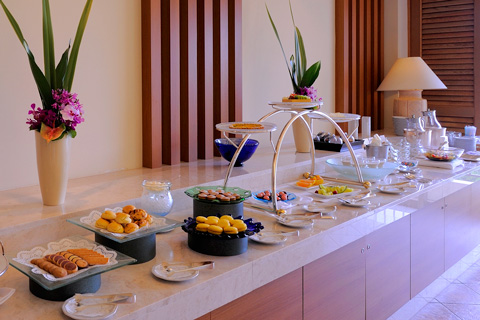 Teatime
2 p.m. - 4 p.m.
Relax with drinks and a range of sweet confections prepared by our seasoned pastry chefs.
Cocktail Hour
6 p.m. - 8 p.m.
Enjoy sundowners and other complimentary beverages along with light appetizers.
The Change of Business Hours within Facilities
Please be advised that some of our facilities will change its business hours temporarily. We apologize for any inconvenience and offer our sincere appreciation for your patience and support.