A range of bodycare products inspired by thalassotherapies are available for purchase here, along with stylish Okinawan souvenirs and original items produced by The Terrace Hotels.
Hours
9 a.m. - 10 p.m. (Mar. - Nov.)
9 a.m. - 8 p.m. (Dec. - Feb.)
Featured Products
Original Herb Tea
Enjoy the 4 different flavors of our "Wellness Stay" herbal teas and their effects.
Original Herb Tea - BEAUTY
Original Herb Tea - DETOX
Original Herb Tea - RELAX
Original Herb Tea - RECOVERY
Price:Tea Bags (10 Pieces) JPY 1,300
Tea Cans (Tea Leaves) JPY 1,600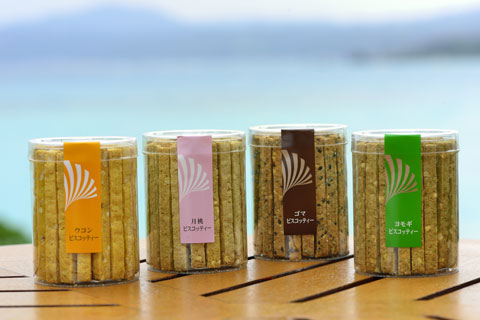 Original Soy Pulp Biscotti
Turmeric(100g)
Mugwort(100g)
Shell ginger(100g)
Sesame(100g)
Price:JPY 880 each
Original Salt & Pepper Blends
Okinawan Sea Salt(80g)
Spice & Herb Sea Salt(70g)
Price:JPY 820 each
The Terrace Hotels Original Face Mask
The mask is formulated with light galangal, a perennial of the ginger family that has long been used by Ryukyu islanders for its therapeutic properties and bright fragrance.
Price:1pc JPY 880,
5pcs/pack JPY 3,850
The Terrace Hotels Thalgo Skin Care Set
This original room amenity is based on alpinia speciosa leaf extract, which has an extraordinary moisturizing effect.
Price:150ml-sized bottle JPY 2,860 each
Skin Lotion
Skin Milk
Skin Cleansing
All prices include consumption tax.