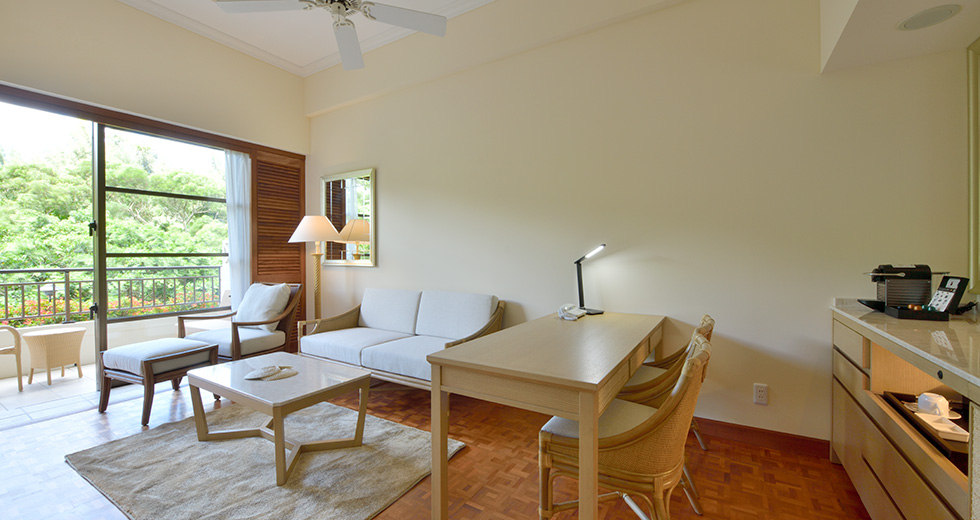 The bedroom and bathroom are on the upper floor and the living room is on the lower floor. The maisonette rooms are spacious and attractive for resort vacations.
Room information
| | |
| --- | --- |
| Floor | Standard Floor |
| Location | Central Tower 6F |
| Floor Area | 64 m² |
| Capacity | 1 to 3 guests |
| Bed Type | King |
| Size of Bed | 1950*2000*510 (W x L x H) |
Services
Complimentary welcome drink
Round-the-clock butler service
Valet parking service from check-in through check-out
Complimentary mineral water, tea, and coffee provided in your room
Complimentary use of the minibar and other in-room snacks and beverages
Complimentary use of the pool, spa, sauna, and gym during your stay
Complimentary beach chair and umbrella rental
Preferred rate on a round of golf at The Atta Terrace Golf Resort
Complimentary shuttle service linking the Naha, Atta, and Busena Terrace hotels (reservations required)
In-room amenities
Shampoo
Hair conditioner
Shower gel
Body emulsion
Mineral soap
Thalasso soap
Cotton puffs
Cotton swabs
Shower cap
Toothbrush
Hairbrush
Razor
Shaving foam
The Terrace Hotels original bath fragrance
Bath towels
Face towels
Hand towels
Body towels
Loungewear
Beach gown
Beach bag
Slippers
Hair dryer
Room facilities
Washlet (toilet with electric bidet functions)
Shower
Room-controlled air conditioning and heating
Television
Satellite broadcast channels
Refrigerator
Minibar
Electric thermos
Complimentary Internet access (LAN/Wi-Fi)(Please contact the Butler Service for the LAN cable.)
Personal safe
Coffee maker
Desk / Desk lamp
Microwave
Drying rack
Full-length mirror
Cutlery
Note
Children under the age of 6 are not eligible to stay.