Welcome to Mother Nature's Terrace
Surrounded by the sparkling East China Sea and lush subtropical plants with their colorful blooms, let the magical interplay of light, sky, wind and water here at Cape Busena lift your spirit, as our ever-attentive staff pamper you with unparalleled hospitality. Fine cuisine, round-the-clock butler service, sybaritic spa treatments, and an exciting range of marine and other outdoor activities are all part of a luxurious Busena Terrace vacation.
---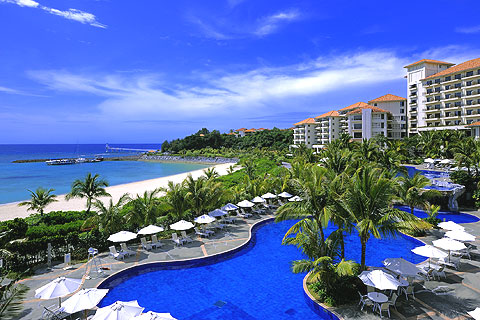 Location
Nestled among the lush trees and white sands of the picturesque Cape Busena in Nago, just 90 minutes from Naha Airport in northern Okinawa, The Busena Terrace welcomes guests to a contemporary beach resort where the guestrooms and public spaces are designed to bring the surrounding beauty in. From the moment you step foot into our stunning open-air lobby, to the last sunset you witness before your departure, Mother Nature will remind you of why you came, and why you'll most definitely wish to return.
---
Guestrooms
In all of our guestrooms, open plans and simply appointed interiors in tones of beige and white showcase the beauty of the natural surroundings.The view from your window, whether of lush gardens or the sparkling East China Sea, is an ever-changing work of art.
For those guests staying on our Club Floors or in our Club Villas, a dedicated team of guest relations officers will see to your every need. Like a private villa at the western tip of Cape Busena, these bright and airy residences are the ultimate hideaway.
---
Restaurants
Resort Dining-Something for every taste, mood, and occasion. Anticipation mounts from the moment you arrive. One of the many highlights of your stay will be our diverse cuisine offerings-upscale and stylish in the main building, and relaxed and casual in Banyan Village.
---
Activities
In addition to enjoying the surf and strolling the white sands of our 760-meter private beach, we invite you to take full advantage of all of our leisure offerings, including catamaran cruises, eco tours, fishing, and snorkeling. At our Craft House, try your hand at local arts with friendly instructors who will assist you in creating an original keepsake of your stay.
---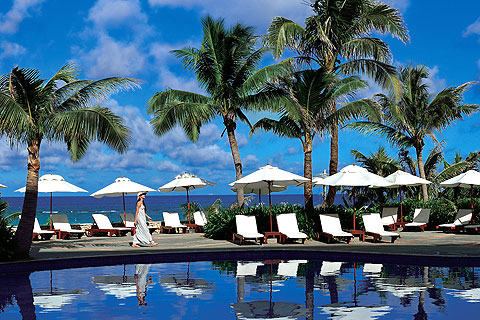 Facilities
During your stay, we invite you to take full advantage of our many facilities and services. Our library, private beach, indoor and outdoor pools, gym, and sauna are free of charge, as is the shuttle bus connecting points on the Cape and our shuttle service linking the resort with other Terrace hotels. In addition, our chauffeured fleet of cars may be hired for touring or shopping.
---