Make the most of your stay.
During your stay, we invite you to take full advantage of our offerings. Our infinity pool overlooks the East China Sea and is front-row center for glorious sunsets, while golfers of all levels find inspiring play at the 18-hole course adjacent to us. For stepping out, a shuttle service links the resort with other Terrace hotels. In addition, our chauffeured fleet of cars may be hired for touring or shopping.
Facilities & Services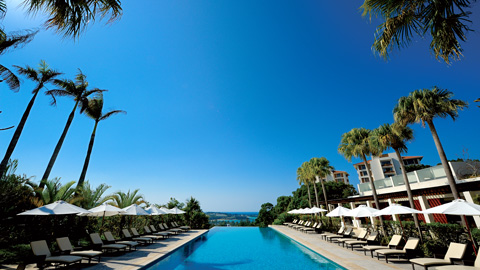 Outdoor Pool
Our infinity pool, stretching west toward the sea, is one of the best places to experience the resort's spectacular sunsets. Light meals and cocktails may be ordered from the poolside Library Lounge & Bar.
Location:
Reception House 1F
Hours:
9 a.m. - 7 p.m. April to September
9 a.m. - 6 p.m. October to November
The Garden
The Garden and its Azumaya facility serve as venues for a number of our cultural programs, such as sanshin lessons, morning yoga, and walking tours of our Kitchen Garden.
*Please be sure to wear comfortable walking shoes in the garden. Heels are not recommended.
*There are no vending machines or food and beverage services within the Azumaya garden house. Restrooms and a house phone are provided within the facility.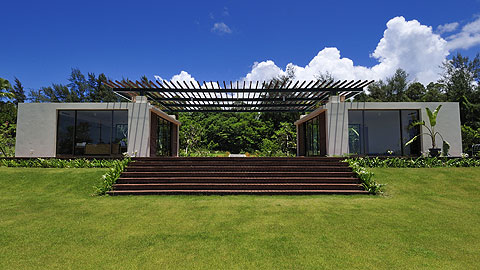 Azumaya
This garden venue offers space for relaxing with a book and is where our daily morning yoga sessions are conducted. Stop by before or after a stroll in our garden.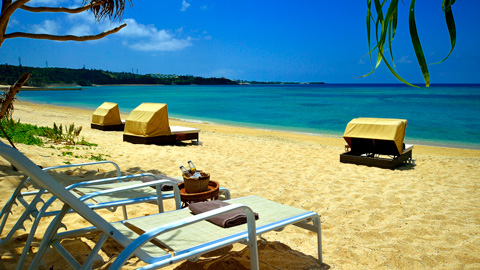 Beach
A 10-minute drive from the hotel lies the shimmering waters of the East China Sea and a white-sand beach with Cabana, exclusively available for guests (at extra cost).
Hours:

11 a.m. - 5 p.m. April to October

*Seasonal operation
*Swimming is not recommended in the beach

Cabana:
Price: JPY 5,000
(inc. tax and exc. service charge)
Available: 2 hours
*Above price includes the use of cabana, transportation fee (hotel to the beach), bottled water, wet hand towel, 1 drink, beach towel)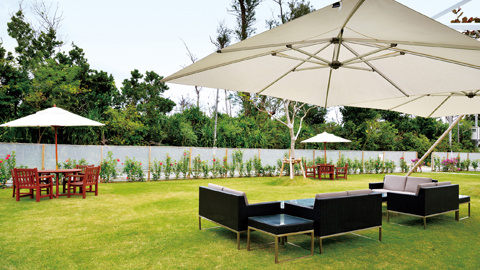 Beach Club
Staying guests of The Atta Terrace Club Towers are invited to make use of our Beach Club, adjacent to Atta Beach. Sparkling wine, beer, soft drinks and snacks are available for sale at the Beach Club.
Play Movie
Hours:

11 a.m. - 5 p.m. April to October

*Depending on when the sun sets, opening hours may change.
Spa Baths
Use of the saunas and spacious communal baths for men and women located in the Club House of the adjacent Atta Terrace Golf Resort is complimentary for hotel guests.
| | |
| --- | --- |
| Location: | Club House 1F |
| Hours: | 11 a.m. - 7 p.m. (Reception until 6:30 p.m.) |
The Atta Terrace Golf Resort
With scenic views of the East China Sea, the rolling greens and fairways of the adjacent 18-hole course incorporate the natural beauty of the surrounding landscape, offering an inspiring play experience for golfers of all levels.
The Atta Terrace Golf Resort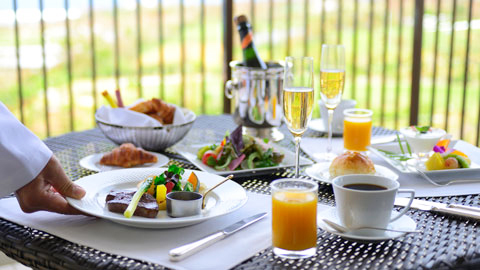 In-Room Dining
Breakfast, lunch, and dinner may be ordered via room service.
Hours:
Lunch & Dinner Selection
10 a.m. - 10 p.m.
(last order at 10:00 p.m.)
Dinner (course) 5:00 p.m. - 6:30 p.m.
Amuse Platter Reservations required by 4 p.m.
Recommended Wine Selection & Beverages 10:00 a.m. - 10:00 p.m.(last order at 10:00 p.m.)
Transportation Services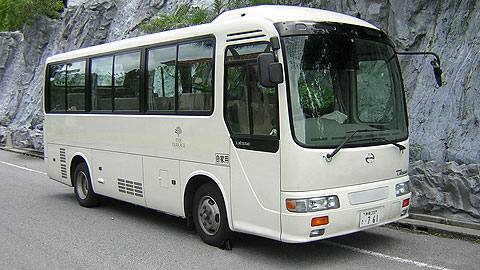 The Terrace Hotels Shuttle Service
For registered guests, a complimentary shuttle service links all of the Terrace hotels. Reservations are recommended and must be placed by 10 p.m. of the previous day.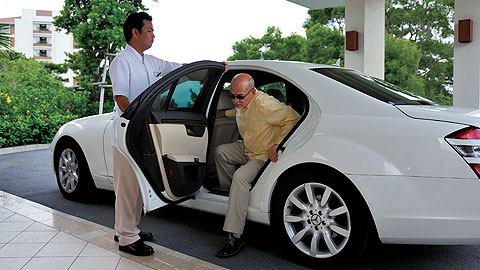 Hired Cars
We are pleased to offer a fleet of deluxe chauffeured cars to accommodate the sightseeing, shopping, and business needs of our registered guests. Advance reservations are recommended.
Important Note
*Only registered guests of the hotel may use our facilities.
*Children under the age of 16 are not eligible to stay.
Please Conceal Your Tattoos
At all Terrace Hotel properties, tattoos of any kind may not be shown when on hotel premises. Within the lobby, restaurants, and other public spaces, please wear attire that fully conceals them. Likewise, a rash guard or other appropriate swimwear that conceals your tattoo(s) is required when using our pools.