Make the most of your stay.
We invite you to take full advantage of our facilities and services during your stay.
In addition to an outdoor pool, we offer esthetic room and training gym to refresh your mind and body.
Facilities & Services
Outdoor Pool
Furnished with deckchairs and parasols, our outdoor pool area is a comfortable place to catch a nap or unwind with a book.
Location
Reception House 1F
Hours
8:00 - 19:00
April through October
Gym
Guest aged 12 and up are free to use the gym for workouts or warm-up exercises.
| | |
| --- | --- |
| Location | Reception House 1F |
| Hours | 8:00 - 20:00 |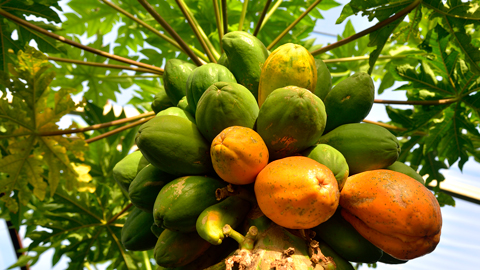 Our Farm
Our Farm is a delightful on-site oasis where we cultivate local fruits like bananas and papayas, along with wheat, vegetables, and a variety of herbs used by our chefs.
| | |
| --- | --- |
| Location | Our Farm |
| Hours | 9:00 - 17:00 |
*Advance booking required for Garden Tour
Spa
The natural healing powers of Okinawan botanicals are harnessed in original therapies that will leave you refreshed in body and spirit.
| | |
| --- | --- |
| Location | Reception House 1F |
| Hours | 11:00 - 19:00 |
*Guardian consent is required for guests under the age of 17.
*Pregnant guests and those on medication or currently receiving medical care are advised to notify us prior undergoing any form of treatment.
Spa
In-Room Relaxation Service
You can enjoy our relaxation service in your guest room. Please contact Butler Service for an appointment.
Hours
17:00 - 25:00
Last entry 24:00
In-Room Relaxation Service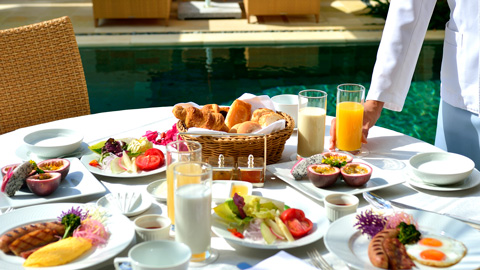 In-Room Dining
Breakfast, lunch, and dinner may be ordered via room service.
Hours

Breakfast
6:00 - 10:00(April to September)
7:00 - 10:00(October to March)

All day Dining
10:00 - 21:00
Late-Night Menu
21:00 - 23:00
Beverages
6:00 - 23:30
In-Room Dining
Transportation Services
Our chauffeured fleet of deluxe cars may be hired for transport between the airport and hotel, or for touring and shopping during your stay with us.
Hired Cars (charges apply)
We are pleased to offer a fleet of deluxe chauffeured cars to accommodate the sightseeing, shopping, and business needs of our registered guests. Advance reservations are recommended.
Important Note
*Only registered guests of the hotel may use our facilities.
Please Conceal Your Tattoos
At all Terrace Hotel properties, tattoos of any kind may not be shown when on hotel premises. Within the lobby, restaurants, and other public spaces, please wear attire that fully conceals them. Likewise, a rash guard or other appropriate swimwear that conceals your tattoo(s) is required when using our pools.