Nearby Points of Interest
History, Culture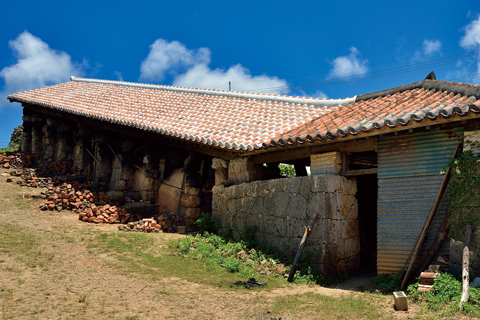 Yachimun Pottery Village (20 minutes by car)
The kilns of Living National Treasure Jiro Kinjo (1912–2004) and other masters of Okinawa's traditional Yachimun pottery are gathered here in this still-growing artists' enclave. The centerpiece of this unique community where life and art are joined as one is a massive climbing kiln, built by hand.
Zakimi Castle Ruins (20 minutes by car)
Registered in 2000 as one of the UNESCO World Heritage "Gusuku Sites and Related Properties of the Kingdom of Ryukyu," these are the remains of a castle built in the early 15th century by the legendary general Gosamaru. With grand views of Cape Zanpa to the west and, on clear days, the Kerama Islands.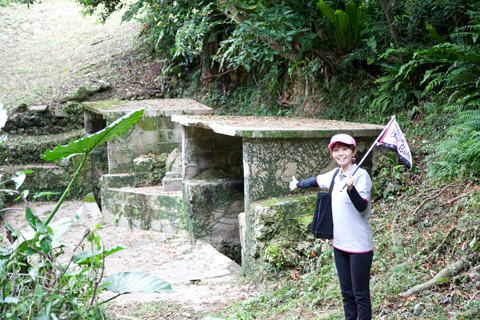 Muramigui (Village Stroll)
Feel Ryukyu's history all around as you amble through the castle town next to the Zakimi Castle Ruins and visit traditional shops to see how local folks live and work. A close-up encounter with Yomitan's charms that no car or bus tour can provide. (Destinations vary with the course taken.)
Sightseeing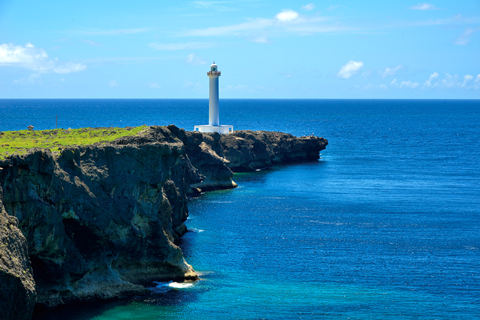 Cape Zanpa (20 minutes by car)
The sparkling white 28-meter lighthouse at Cape Zanpa boasts sweeping vistas of the East China Sea and the sheer 30-meter cliffs along the coast, part of Okinawa Kaigan Quasi-National Park. The cape is also known for its spectacular sunsets and, when skies are clear, a view of the Kerama Islands.
Crafts, Experience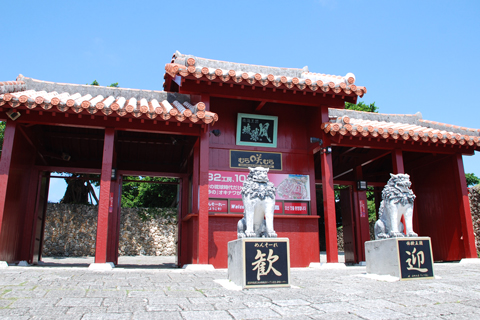 Murasaki Mura (10 minutes by car)
The former set for the epic NHK television drama Winds of Ryukyu is now a theme park that reconstructs Okinawa life in the 15th century, when the Ryukyu Kingdom was at its height. Red-tiled residences serve as studios where you can make a Shisa statue, learn Bingata dyeing, or blow Ryukyu glass—101 different craft adventures in all.
Ryukyu Mura(20 minutes by car)
This architecturally themed park features traditional dwellings relocated to here from across the Okinawan islands. There is a regular schedule of song and dance performances, and workshops invite visitors to try their hands at pottery-making, bingata and indigo dyeing, and traditional musical instruments such as the three-stringed sanshin.
Gala Aoi Umi (10 minutes by car)
A unique theme park that's all about salt, a substance intimately linked to Okinawa's sea, cuisine, and culture. Replete with restaurants and shops as well as studios where you can learn how to boil seawater down to make salt the Okinawan way, or dabble in glass art, pottery, and other crafts.
Ryukyu Glazier Atelier Genka Genkichi (20 minutes by car)
Visit the maker of Ryukyu glass sold at the hotel and see how this local artwork is created—or make a piece yourself for a memorable souvenir of Okinawa. The glassmaking experience is fun and safe for beginners, including children.
Activity, Golf
Okinawa Horse Riding Club (10 minutes by car)
Ride on horseback through Okinawa's lush natural environment on this outdoor course located in Murasaki Mura, close to Nirai Beach. Courses are available at all levels, from children and first-timers to seasoned riders.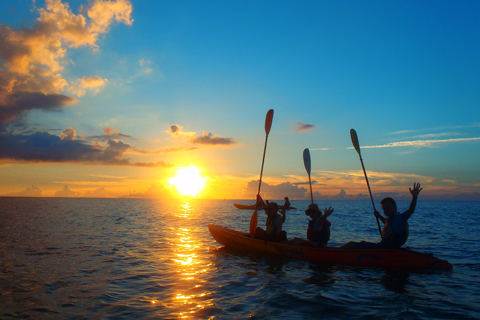 Earthship Okinawa (10 minutes by car)
Located in the Murasaki Mura parking area, this marine shop offers ocean adventures for all ages from three on up: sea kayak tours for multi-generation families, sunset kayak tours for spectacular views of the sun sinking below an endless horizon, the popular SUP (stand-up paddleboard) tour, and more. Choose from an extensive menu of programs according to your interests and schedule.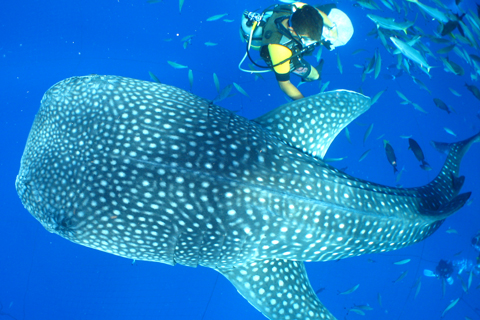 Topmarine Zanpa (15 minutes by car)
Diving, snorkeling, glass-bottom boating—this outfit provides everything you need for ocean thrills, such as viewing Okinawa's famous whale sharks from close-up. Winter and early spring are the prime season for whale watching, perhaps the biggest thrill of all.
Marine Service Murunu-shi (10 minutes by car)
The Blue Cave, anemone fish, rock formations . . . choose from a full line-up of snorkeling and diving courses and styles, including beach or boat entry, to get maximum pleasure out of the beautiful waters off Yomitan and Onna villages. Boat rentals for private diving are also available.
Fixed-Net Fishing Experience (15 minutes by car)
Be a fisherman for a day! Board a roomy 24-person boat and share the life of professionals fishing with a huge fixed net. Get up-close views of the variety of fish and bountiful catches for which these tropical waters are known. Fun for all the family, kids and adults alike.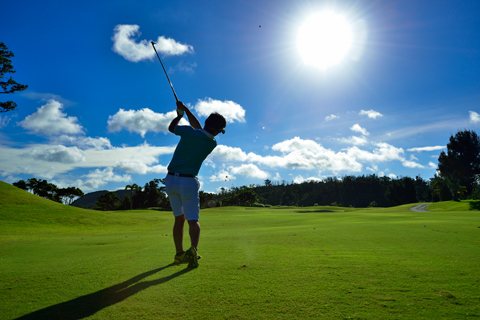 The Atta Terrace Golf Resort (50 minutes by car)
The undulating beauty of the Onnadake highlands in an 18-hole course overlooking the East China Sea, luring players of all levels with breathtaking views and the unique challenges of its setting. you'll enjoy resort golf at its finest.