May 14, 2020
Welcome to "Our Farm to Table". At The Uza Terrace Beach Club Villas and The Atta Terrace Club Towers, we offer guests with food, drinks and esthetic materials using natural produce harvested from our very own farm and garden. We ensure that our guests have a memorable experience which they can only have at The Uza Terrace Beach Club Villas.
Philosophy "Persistent to Natural Farming"
We produce seasonal vegetables, herbs and fruits by natural farming; minimizing the use of agricultural chemicals and chemical fertilizer. For example, "companion planting" is one of our approaches. We grow different types of plants and vegetables together to have a beneficial effect to prevent harming pests and promote growth.
Experience "Farm to Table"
OUR FARM tour will deepen your understanding of the wide variety of produces', characteristics and farming methods used to harvest at The Uza Terrace Beach Club Villas. Also, tour of the local fish port is available for you to experience the auction held right in front of you at "Toya Fishing Port".
Delicious cuisine which you can only experience at The Uza Terrace Beach Club Villas.

Gourmet "Savory Dinner with Local Produce"
The chefs at The Uza Terrace Beach Club Villas will prepare a course meal using selected local seafood and natural produce from OUR FARM. Also, at "Bar & Lounge" and "Shop & Cafe", seasonal cocktails and sweets using fresh vegetables, fruits and herbs are available.
Relaxation "Relieved by Nature"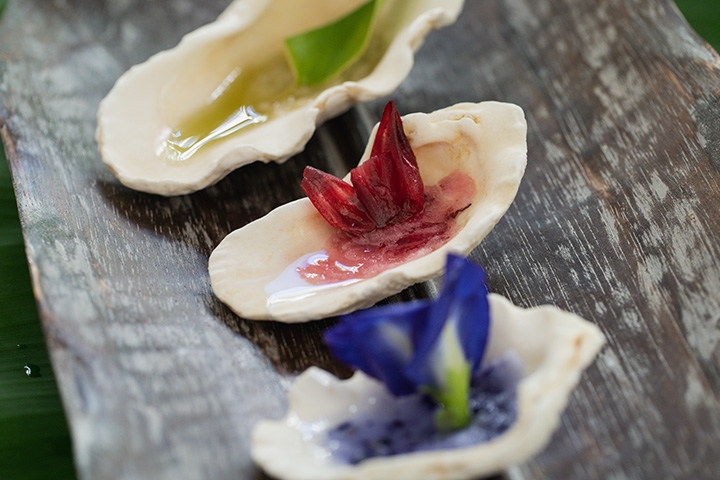 Seasonal flowers and herbal fragrances will naturally relax your mind. At "spa", you can enjoy our original scrub which incorporates butterfly pea, Roselle and shell ginger from OUR FARM.
Enjoyment "Fulfilling Relaxing Time"
Delight in your own private bath using variety of herbs freshly picked from OUR FARM. You can also use fresh herbs to make your original cocktails in your room.