Our guided tour offerings provide a number of ways to experience the charms of Yomitan while getting acquainted with Okinawan history and the natural bounty of these southern climes.
Our Farm
Take a staff-guided tour of Our Farm, the hotel's on-site chefs' garden adjacent to the hotel. See how farmers care for banana, papaya and other tropical fruit trees, and grow native Okinawan vegetables and herbs.
Reservations are accepted up to one hour in advance; wear sneakers or walking shoes.
| | |
| --- | --- |
| Dates | Daily |
| Hours | 9 a.m. - 5 p.m. |
| Duration | 30 minutes |
| Location | Our Farm |
| Fee | Complimentary |
| Capacity | For groups up to 6 |
| Reservation | One hour before |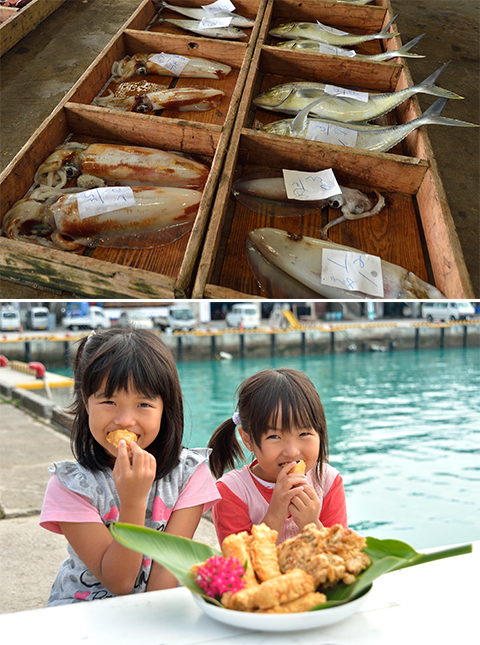 Toya Fishing Port
A local harbor and fish market where you can watch auctions of the catch of the day, or purchase mouth-wateringly fresh sashimi and seafood tempura. (Please note that auctions may be cancelled due to poor sea conditions.)
| | |
| --- | --- |
| Dates | Monday through Friday |
| Hours | Depart hotel at 9:45 a.m. |
| Duration | 60 minutes |
| Location | Toya Fishing Port |
| Fee | Complimentary |
| Capacity | For groups up to 5 |
| Reservation | Up to 10 p.m. of the previous day |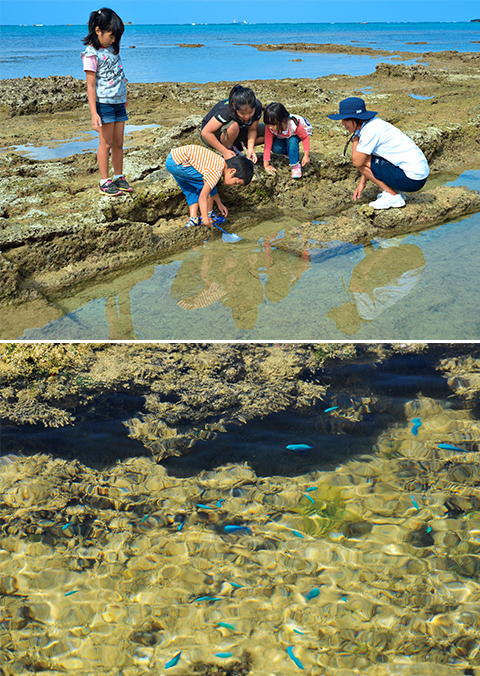 Reef Watching
Explore the reef lagoons that appear at low tide along the Uza shoreline right in front of the hotel. Kids and adults alike become enthralled by the world of tropical fish, shellfish, corals and other little creatures who populate these seawater ponds. You'll be walking over rocks, so please wear marine shoes or other non-slip footwear. (Tour begins at low tide; check for starting time. Reservations are accepted up to one hour beforehand and cancelled in the event of rain.)
| | |
| --- | --- |
| Hours | Please notify Butler Service |
| Duration | 60 minutes |
| Location | Uza shoreline right in front of the hotel |
| Fee | Complimentary |
| Capacity | For groups up to 10 |
| Eligibility | Ages 6 and up (guardian required for children under 12) |
| Reservation | One hour before starting time |
Zakimi Castle Ruins
Hotel staff will guide you on a tour of this UNESCO World Heritage site. Situated atop a hill with glorious vistas of Cape Zanpa and, on clear days, all the way to the distant Kerama Islands, the castle is known for its beautiful curved stone walls and arched gates. After viewing the ruins, we'll stroll along the paths around them. (Wear comfortable clothes and sneakers. Cancelled in the event of rain.)
Period
November - June
Hours
Please notify Butler Service
Duration
120 minutes

Location
Zakimi Castle Ruins

Fee
¥2,000 per person
Transportation fee included
Prices are subject to consumption tax

Eligibility

Ages 6 and up (guardian required for children under 12)

Capacity
For groups up to 5
Reservation
Up to 10 p.m. of the previous day