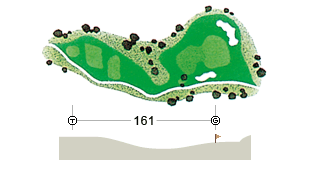 Click on a camera icon to view the terrain from that angle.
BT

161

RT

145

LT

120

PAR

3

HDCP

14
The shortest hole of our course is an easy one when played to the front of the green. The Ryukyu pines and gardenlike setting may tempt you to linger.
Tee
Avoid overshooting the green at all costs—approach shots from beyond the green must go downhill and with the grain. Take note of the wind passing above the trees.
Approach / On the Green
The green slopes dramatically away from the back left bunker. The slope is also difficult to navigate from the right side, and putting from there requires attention to the break.