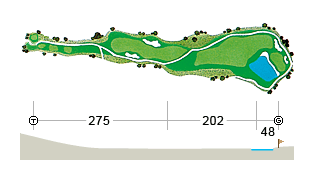 Click on a camera icon to view the terrain from that angle.
BT

525

RT

477

LT

371

PAR

5

HDCP

9
The long straightaway here spurs players on with a seaward vista that opens up toward the Motobu Peninsula and Sesoko Bridge.
Tee
Fly the fairway bunker on the right to eat up plenty of yards and give yourself a chance to get on in two.
Fairway
Choose your club carefully for the downhill lie on your second shot.
Approach
You face another downhill lie from the area just before the pond, but it is no easier to go deep and come in from the rear bunker.
On the Green
The green is long and sloped toward you, but the grain goes toward the pond in the front and toward the bunker in the back.