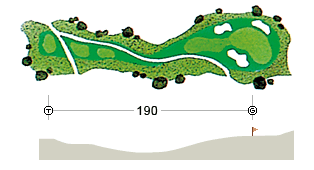 Click on a camera icon to view the terrain from that angle.
BT

190

RT

163

LT

101

PAR

3

HDCP

17
The elevated green here is open to the wind. Sharpen your concentration for an accurate shot.
Tee
The trees surrounding the tee box make it difficult to tell the direction of the wind. The area in front of the green slopes toward you, so your tee shot needs to carry all the way to the green.
Approach
The stubborn rough left of the elevated green is sure to grab your club head, making it difficult to get a feel for the distance for your approach.
On the Green
The green looks relatively flat, but it has a subtle slope and grain. The front of the green is especially steep and fast.