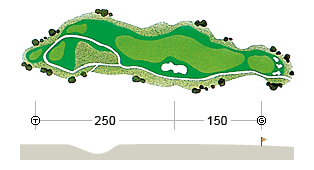 Click on a camera icon to view the terrain from that angle.
BT

400

RT

353

LT

323

PAR

4

HDCP

7
Focus on getting an accurate reading to the pin—the green here is long with sloped sides. Aim your tee shot down the left side for a better approach to the hole.
Tee
Aim to the left of the fairway bunker. You'll need to go 230 yards on the fly to clear it.
Fairway
Dreaded white stakes tightly enclose the long green and choke the apron, so you need a good feel for distance and direction to negotiate your approach.
Approach
Shots from the apron are into the grain. Pay close attention to the winds over the green.
On the Green
The entire green slopes from back to front. Putt carefully from beyond the pin.