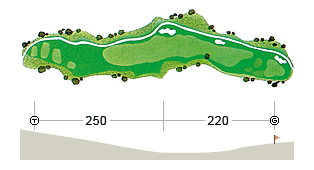 Click on a camera icon to view the terrain from that angle.
BT

470

RT

454

LT

360

PAR

4

HDCP

1
Excitement mounts quickly at this long par 4. An overhanging pine tree 100 yards short right of the green heightens the test of hitting the green in regulation.
Tee
Aim for the narrow landing area between the pine tree on the right and the fairway bunker on the left.
Fairway
The fairway appears to be flat, but it actually slopes upward. Make sure your second shot carries the grass bunker in front of the green.
Approach / On the Green
Shots from the back or right side of the green are a nightmare—downhill and with the grain. Plan your approach and putting strategy carefully.