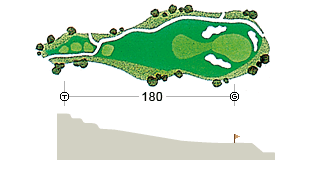 Click on a camera icon to view the terrain from that angle.
BT

180

RT

163

LT

120

PAR

3

HDCP

18
Anticipation mounts as you approach our signature hole with its stunning view of the sea. Watch the wind, and your putting, here.
Tee
Use less club for this downhill tee shot. The trees to the right of the green will tell you what the wind is up to.
Approach
The sand in the three greenside bunkers is firm and will have its way with your club head.
On the Green
The green slopes from front to back. It is best to underestimate the break.