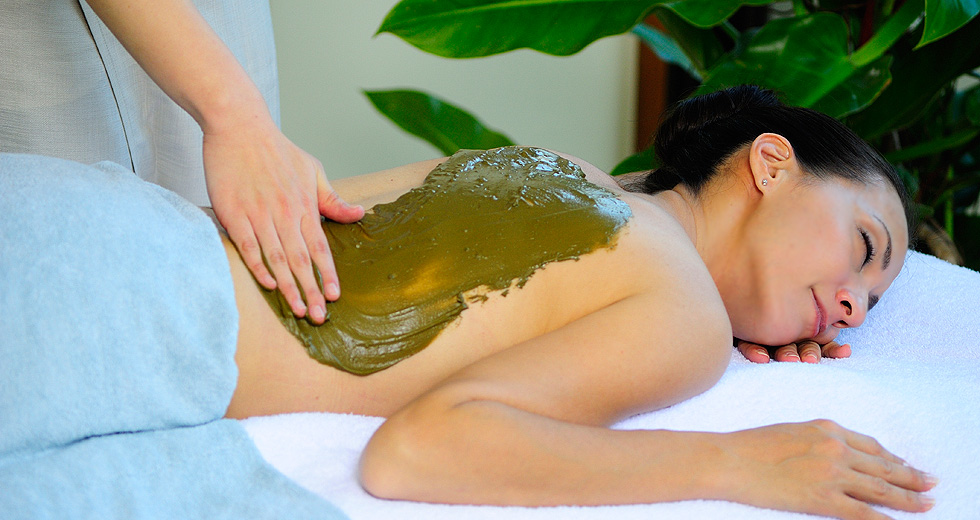 Body Wraps
Potent algae extracts and botanicals grown on the Okinawan islands feature in our selection of four thermal body wraps. Each mineral-rich experience delivers essential nutrients deep into your skin, promoting the release of impurities while hydrating and softening. Choose the program that best suits your body's condition and needs, and see what a difference 30 minutes can make.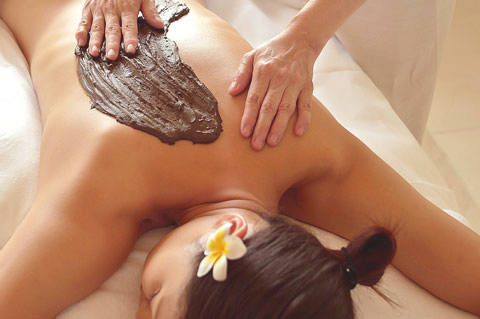 Marine Algae
30 minutes ¥7,500
This warm and relaxing treatment uses natural marine algae, rich in remineralizing ingredients, to deep-cleanse, detoxify, and smooth the skin.

Marine C Algae
30 minutes ¥7,500
The body is wrapped in a creamy and softly aromatic blend of micronized marine algae, sea salt, and calcium carbonate.

Mineralg Gel
30 minutes ¥7,500
Blended with essential oils of peppermint and lavandin, this seaweed body wrap activates your circulation for a rapid detox and a slimming boost.

Bone Marine
30 minutes ¥7,500
Dead Sea minerals are delivered to the skin, drawing out impurities and aiding renewal. The formula contains no iodine and is safe for those with thyroid disorders.

Body Scrubs
Receive maximum benefit from subsequent heat and hydro therapies by starting off with an exfoliating body scrub using Thalgo skin-conditioning products.
Marine Algae Scrub

30 minutes ¥7,500
Thalgo's Plasmalg Marine Gel remineralizes the epidermis, increases micro-circulation, and purifies the skin with its potent formula of vitamins, minerals, and marine algae.

Descomask Body Scrub

30 minutes ¥7,500
The skin is gently conditioned, toned, and softened with a creamy and soothing exfoliating scrub suitable for all skin types.

Body Conditioning
Your therapist will devise a program tailored to your aims and your body's condition on the day of treatment.
Body Conditioning

60 minutes ¥15,000
90 minutes ¥22,500
This detoxifying massage uses seaweed extracts and aromatic oils.
Facial Treatments
Our luxurious facials feature Thalgo products, harnessing the power of the sea for spectacular results in purifying, hydrating, and toning.
Total Balance

60 minutes ¥15,000
In this standard facial, the skin is thoroughly cleansed and hydrated according type.
Aging Therapy

90 minutes ¥28,000
Lines, wrinkles, spots and other effects of the elements and aging are addressed in this customized course.
The Terrace Hotels' Original Treatments
Indulge in an original body or facial treatment featuring specialized techniques and aromatic oils.
Repose
(Body Treatment)
70 minutes ¥19,000
Fatigue is released from the body's core in this relaxing treatment. From our array of original and all-natural aromatic oil blends select your favorite fragrance and indulge in the soothing effects of a full-body oil massage.

Radiance
(Facial Treatment)

60 minutes ¥13,000
Our relaxing basic facial treatment addresses the neck and shoulders in addition to thorough cleansing, exfoliation, and massage of the face, leaving your complexion radiant.

Optional Add-Ons
Combine these optional offerings with any of our facial or body treatments to deepen your relaxation.
Head Massage
20 minutes ¥3,000
By releasing tension stored in the head and neck, this treatment also alleviates stiff shoulders and eye strain.
Short Facial
30 minutes ¥7,500
This fundamental facial care offers a deep cleansing and massage.
・All prices are subject to consumption tax.
・Personal consultation of 15 to 30 minutes will be added to your appointment.
・Add-ons are offered only in tandem with other treatments.